In:
It's always been a heated debated among cruise veterans about the role of art auctions on cruise ships.  The Detroit Free Press reports that recently, one person felt that she was "swindled" by a Park West art auction aboard Royal Caribbean cruise ships in 2005 and 2007.  She claimed to have purchased 21 pieces of art, including limited-edition prints by Dalí and Rembrandt, for $48,000.  She subsequently went to art dealers and other art experts who told her that her art was worthless and sued Park West.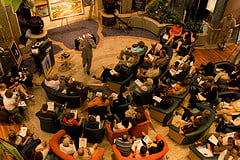 "The suit, one of several nationwide, accuses Park West and its founder, Albert Scaglione, of selling fake, forged and overpriced artwork and using phony appraisals and certificates of authenticity.
Scaglione denied the allegations and said the negative publicity is killing his business. "These charges are ridiculous," he said. "We have never done anything wrong.""
In addition to that one lady, a few others are mentioned in the article with their own stories of purchasing art on their cruises only to find that they were valued at less than what they were lead to believe.  Seems things have not been good for Park West either, 
"Two cruise lines have ended their contracts with Park West since last year, decisions Scaglione attributed to economics rather than the legal controversy. The cruise lines wouldn't comment."
I'm no legal or art expert, so I'll leave it to the courts to decide.  The best advice I've ever received about the art auctions on board any cruise ship was from Jamie from CrownCast and it's okay to buy a piece if you think it looks nice and want it in your house, but don't buy art on cruise ships as a means of investment.