Enchantment of the Seas Live Blog Day 1 - Embarkation Day
In:
It's Friday the 13th so it's cruise day!
I usually like to fly to south Florida, but I couldn't find any good deals on flights from Tampa, so I drove. I was on the road at 5am and arrived to my terminal at 9:45am. The parking in the terminal is $20/day and you pay when you leave. The let me in the first checkpoint but the security lines didn't open until 10am.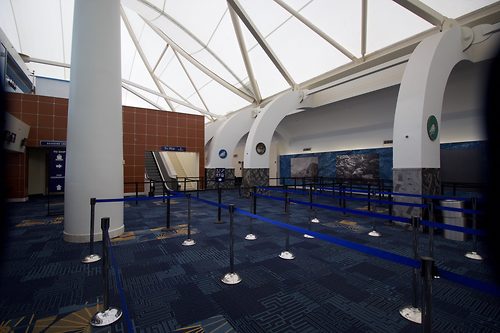 Once I checked-in I went into the suite/diamond plus lounge to relax. Other wise in this terminal you stand in a line. So my suggestion is arriving at 10:30-10:45am, so boarding is just starting and you can walk right on board. At 10:45am boarded started and was on board right away.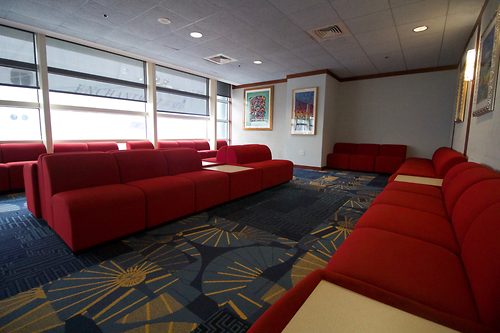 When I got on board I purchased my drink package. In the cruise planner it was $169 with the 20% off sale. Since I'm Diamond Plus there is a 30% off discount on board, so it came out to $151.
I sat down and enjoyed my first beer and watch countless people buying the package at $214. This always puzzles me, because even if they are a first time cruisers, Royal Caribbean is always sending emails about buying things in the cruise planner.
Windjammer opens at 11:30am and Park Café opens at 12pm. I like to eat Park Café when I can, so I wanted until noon.
When I was on board last year they only had pizza and salad, so I'm happy to report they have brought the roast beef sandwiches back! Lunch was so peaceful it was myself and another table eating here that's it.
At 1:30pm the cabins opened up, while walking to my cabin I saw my bag in the hall so I grabbed it.
My cabin is a large ocean view cabin number 3134. This cabin feels so big to me, I think it's because I just came off Empress. There is a lot of storage space, even some in the closet too. Next year I'm booked on deck 2 inside cabin and I'm going to change it to this cabin.
Sail away party was right after the muster drill and a big hit like always. I'll mention the wait time for a drink was little to none. They had 10-12 bartenders working the Oasis Bar and someone was always there to get you something.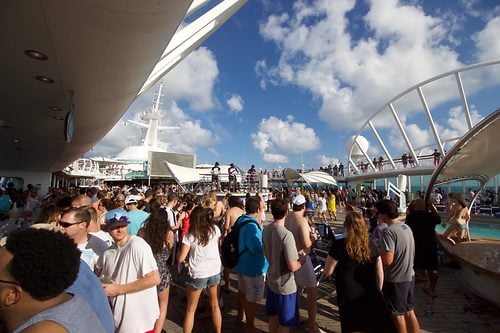 Dinner tonight was in Chops Grill at 7pm. I was going to try the new tomato soup I've been seeing on the menu now, but it wasn't here. This ship still has the lobster soup, so I went with that. I had the same waitress as last year, so it was fun sharing old memories. They were very busy tonight, seems to be quite a few large groups on board all dining together. However, my service was at just the right speed, not too fast or slow.
My main course I went with the filet, mac & cheese (its so good!) and tots. For dessert I had the ice cream Sunday and just couldn't finish it, the food coma was starting to get real.
After dinner I went into the casino to walk around and I ran in Super Mario. He's the guy who lives at sea and just hit his next milestone of 7,000 Crown and Anchor points. I wonder if I'll catch up to him one day…
That's a wrap for my day 1, after my casino time I decided to get some sleep. Tomorrow we are in my favorite island of Coco Cay!