Royal Caribbean overhauls meeting and event options at sea with new website
In:
Royal Caribbean announced today it has overhauled its options for groups that need corporate meetings, incentives and events at sea that will make the experience of meeting and event professionals seamless from start to finish.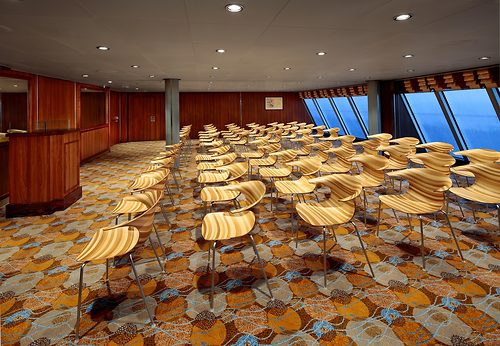 Royal Caribbean has offered companies and groups the option to hold meetings, conventions and events onboard its cruise ships for years and took this opportunity to revamp its offerings that take advantage of the cruise line's best new features.
Royal Caribbean completed last week a redesign of its RoyalCaribbeanIncentives.com site that includes a fresh dynamic look, enhanced search functionality, streamlined site navigation, rich content and exclusive planning tools.
Featuring an inspiring look and feel, paired with a simplified user experience, the event and meeting planner hub now delivers a fully integrated process, including:
Dynamic design: Leading with rich imagery, video and a bold, easy-to-navigate layout, the entirely new site allows planners to quickly pinpoint where they want to start, whether searching by destinations, ships and event venues or just browsing.
Search widget: The new feature provides the ability to identify the ultimate event destination options based on a planner's group size, for a customized experience.
Responsive functionality: Planners can explore and use the website from a variety of mobile and tablet devices as well as desktop computers and laptops.
Customization: Personalized and simplified searches and newly added content, including the Royal Caribbean "Event Customization Guide," allow event planners to easily pull up the rich lineup of customizable options at their fingertips.
Request a Proposal Form: Travel professionals have the ability to request a proposal from the cruise line based on their specific group criteria.
"Planning an unforgettable event at sea with us – no matter how intimate or grand – just became as intuitive and seamless as the world-class service we deliver to guests onboard our 25 ships 365 days of the year," said Lori Cassidy, AVP, Global Corporate, Incentive and Charter Sales, Royal Caribbean International. "With our reimagined website, we are thrilled to launch our latest investment in building new and stronger relationships with meeting and event professionals. As partners and brand experts, our job is to make the entire process as easy and valuable as possible, and this is further testament to that dedication."
For more information or to receive a quote to host a meeting, charter a ship and more, planners in North America can contact (800) 529 6916 and visit the new RoyalCaribbeanIncentives.com.