Martinique welcomes return of Royal Caribbean
In:
News that Royal Caribbean plans on having Vision of the Seas stop at the Caribbean island of Martinique in the winter 2012-2013 have the island excited.  Royal Caribbean is returning to the island after a hiatus of more than 3 years.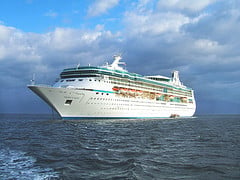 The Martinique Tourism Authority is heralding the development as a major step forward in its efforts to grow the island's tourism receipts from the U.S. market.
Commissioner of the Martinique Tourism Authority, Karine Roy-Camille, commented on the news, "Royal Caribbean's return to Fort-de-France is the latest testament to the fact that Martinique is well positioned for tourism growth and 100% open for cruise business.  This is certainly good news for Martinique and a strong building block for further expansion in the cruise sector over the coming years."
Martinique boasts great shopping opportunities in the downtown portion of its capital Fort-de-France. Retailers promise the best of Parisian fashion, jewelry, porcelain, perfumes and other fine goods are here, and for U.S. travelers most of it is available at a 20% discount.