First time cruiser reviews Royal Caribbean
In:
Lots of people are hesitant to try a cruise but Michael van Baker tried out a Caribbean cruise aboard Royal Caribbean's Serenade of the Seas out of Puerto Rico and decided to share his thoughts.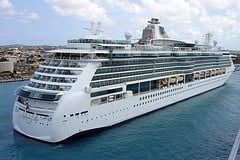 On why he's trying a cruise now, van Baker seems to finally have given into the idea, "The people I know just don't go on cruises, unless they have an excuse: visiting relatives, hip destinations, all-you-can-drink offers. But when I was casting about for ways to beat Seattle's December gloom, the prospect of a Caribbean cruise seemed worth considering."
The seven night cruise sailed out of Puerto Rico and visited Grenada, Dominica, Antigua, St. Croix, and St. Thomas.
Once onboard, van Baker was surprised by his room size, "The first surprise was the size of the stateroom–I had been on enough boats not to expect a majestic expanse, but the balcony stateroom managed to feel positively roomy."
van Baker did note that Serenade, which is going for a refurbishment in 2012, is showing her age, "The stateroom TV wasn't a flat panel, but a tubed variety, sporting a distinctive green cast across the bottom third from years of use. (The projector in the ship's cinema was also worn or in need of maintenance. There are parts of Thor I can't describe to you because they were a muddy haze–which, of course, is both a plus and a minus.)"
You can read more of van Bakers thoughts on his full report.