In:
Our final port stop of this cruise is bringing us to Nassau, Bahamas for another day of fun in the sun.
We docked in Nassau at 7am, but we chose not to get off the ship until 9am. I am not sure we could have rounded up the children any earlier than that without some serious ice cream.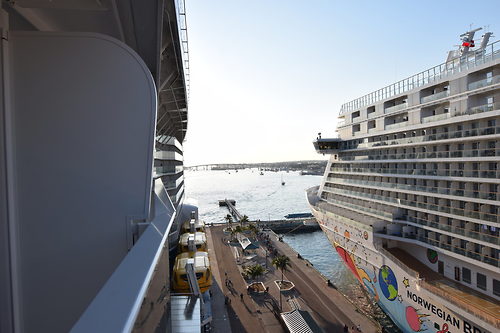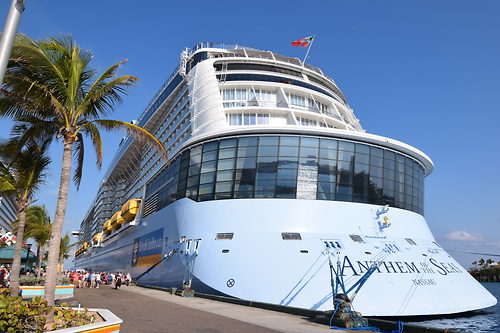 Prior to the cruise, we booked day passes to the British Colonial Hilton resort. It provides access to their facilities, as well as a food and beverage credit.
After exiting the ship, we took a quick cab ride to the resort and checked in. The resort has a pool and beach access, and we chose to spend time in the pool because the kids love to jump, swim and repeat ad infinitum.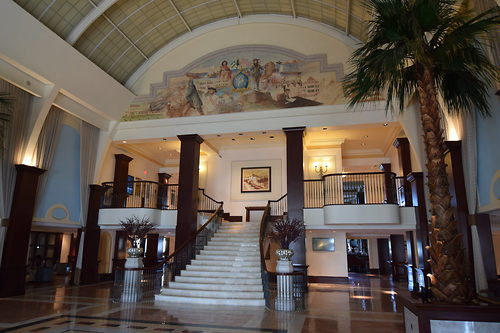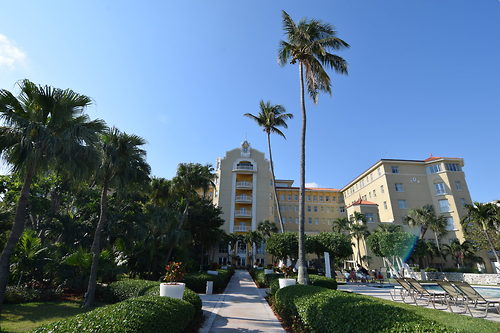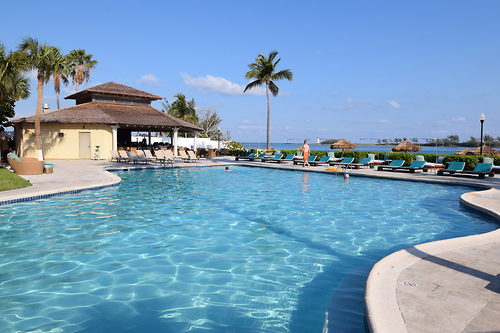 We grabbed some chairs by the pool in the shade. There is some shaded seats near the beach, but not a whole lot of shade near the pool. By getting there early, we had no issues with getting the spot we wanted.
The day pass also includes a $40 food and beverage credit per adult ($20 per child), which we used on their lunch options. Drinks were also readily available. In the case of food and drinks, the prices are pretty high ($20 for most entrees and $14 for drinks).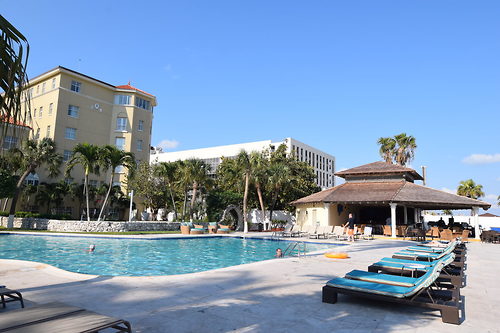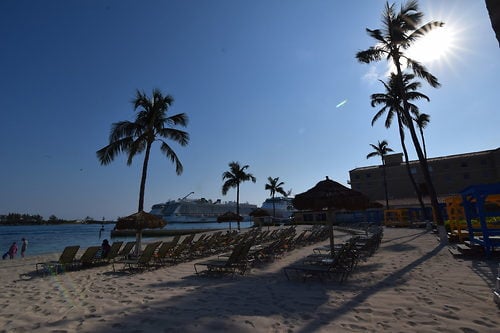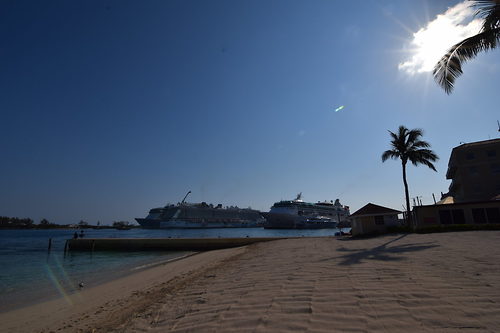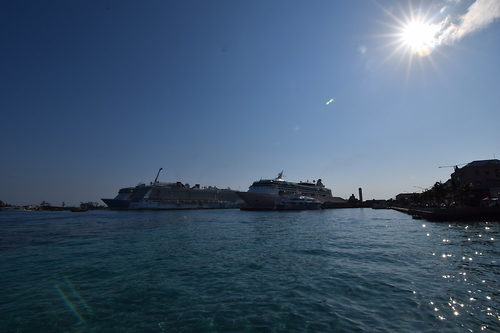 The facility is quite beautiful and our day spent there was exactly what I had hoped for. The kids barely left the pool, and the weather was great for a day spent enjoying being outdoors.
In the afternoon, we decided to head back but walked this time. It is a short walk to/from the cruise pier (perhaps 10 minutes). We did a bit of window shopping, including a pit stop for ice cream.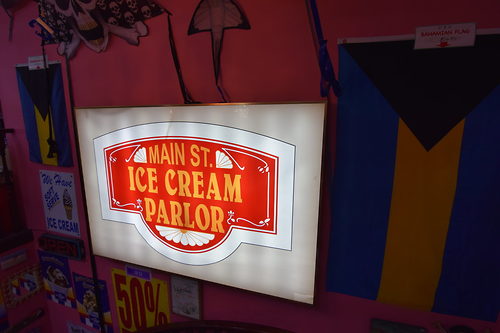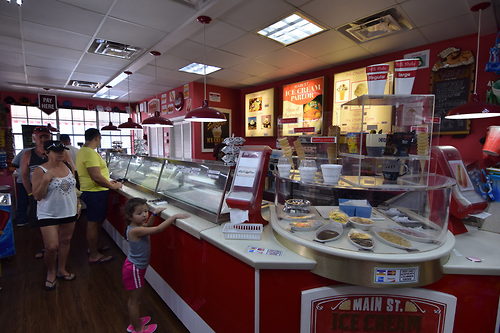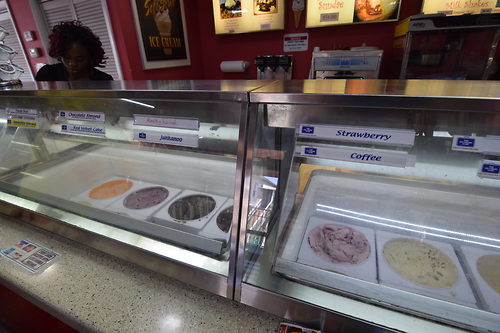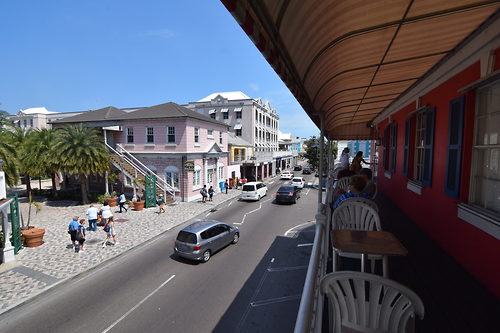 I think we had a great day in Nassau, and I enjoyed our stop here a bit more than I thought we would, in part because how much fun the kids had, and also because I liked getting a mix of a pool day and city walk.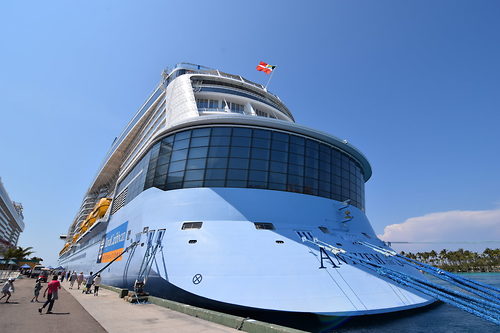 Back onboard, the kids took showers and subsequent naps. I do not think I minded some quiet time in our air conditioned stateroom to round out our afternoon.
After the usual routine of feeding the kids and bringing them up to Adventure Ocean, my wife and I had a few Diamond drinks in the Schooner Bar. There was a brass band playing jazz standards there, and it was a great backdrop for cocktails.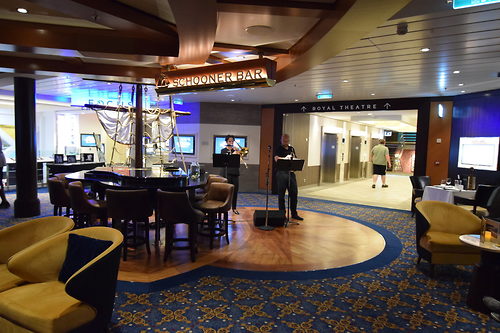 For dinner, we were back in the main dining room. We had plans to do some bar hopping, but our day in Nassau sapped all of our energy, so we decided to call it an evening a bit early. We figure sleep now so that we have more energy for a full day tomorrow.
Stray Observations
Photo ID was needed to get back through the port in Nassau (in addition to the SeaPass card).
Soon after leaving Nassau, it became quickly apparent there was going to a bit of chop in the waves. Nothing crazy, but it is the sort of motion that occasionally occurs where you have to watch your step as walking.
The Led Zeppelin cover band was playing tonight in Music Hall.
Grandeur of the Seas was in port with us, although she was not listed on any port schedules I could find.

Because I am a geek, I bought a SIM card to use. The WiFi at the Hilton would cost $10.99, but the SIM card and 2GB of data cost me $27.