In:
Sabor Modern Mexican has quickly become one of Royal Caribbean's most popular specialty restaurants with cruise fans because of the terrific food quality available. On Voyager and Freedom class cruise ships, Sabor is priced with a cover charge and to dine there requires paying the full cover charge.  If you are interested in just grabbing a bowl of Sabor's famous hand-made guacamole, there is another way to enjoy it without paying the cover charge.
While on Freedom of the Seas, we spotted at the Schooner Bar a sign that allows guests to order Sabor's guacamole, salsa and chips.  It is a fairly simple process and comes with the benefit of not having to pay the cover charge. The only caveat is guests may only order from Sabor when the restaurant is open (sorry, no midnight guacamole orders).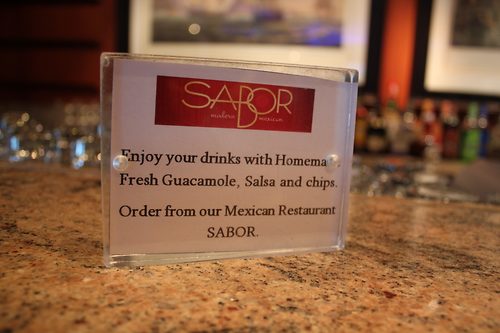 Just let a waiter from the Schooner Bar know that you would like to order from Sabor and they will get one of the waiters from Sabor to take your order.  The waiter will ask how many people should the order be made for.  Pricing will be based on how many guests you want to have enough guacamole, chips and salsa to accomodate. 
When we tried this out, we also had the choice of ordering from the restaurant's drink menu.
A few short minutes later, our food and drink was brought over for us to enjoy.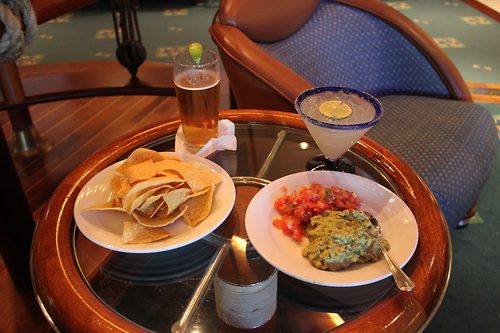 When we tried it out on Freedom of the Seas, the cost for the food (excluding the alcoholic beverages) was $10.00.