5 things that are totally worth the extra money on a Royal Caribbean cruise
In:
While on a Royal Caribbean cruise, you may be tempted to spend money on all sorts of extras, experiences and wonderful things, however, sometimes it is difficult to know which of these are worth the extra money.
There are plenty of great extra you can buy for your cruise, but here is a list of our favorite extras that we do not mind (as much) paying out of pocket for.
5. Stay in a balcony stateroom
In the grand scheme of ways to spend some extra money, it is difficult to overlook the value of a balcony stateroom.
Balcony staterooms offer your own private views of the ocean (or Boardwalk/Central Park on Oasis-class ships) that arguably make the cruise experience much more personal.
Having the ability to go onto your balcony at any time of day or night and enjoy the view, drink your coffee or catch the breeze is what a balcony is all about.
Plus, having a balcony room gets you more living space. The balcony itself provides more room and balcony staterooms offer more space inside the room compared to cheaper stateroom categories.
4. Dinner events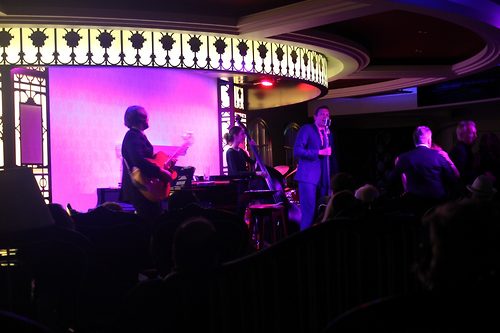 Did you know on many Royal Caribbean ships there are dinner events, where guests are invited to join in some fun along with drinks and food?
Two events are worth your time and money to enjoy: The Mystery Dinner Theater and the Prohibition Party.
The Mystery Dinner offers an evening of fun, where the cast pits you as the detectives and need your help in solving a crime, while enjoying great food in Giovanni's Table.
If dancing and drinks are more your style, check out the Prohibition Party, where you enter the world of a 1920's speakeasy and enjoy dancing, drinks and great jazz music.
3. Stay an extra day before/after your cruise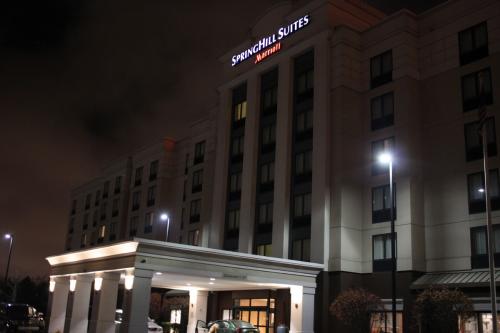 If I can share one tip that anyone can use for their cruise, it is to extend your vacation and stay an extra day (or more) before or after your cruise.
Travel delays happen all the time and the last thing you want to do is put your cruise vacation in jeopardy because of a flight delay or traffic.
By staying in a hotel a night or two before your cruise, you can give yourself plenty of buffer to accommodate almost any travel delay.  Plus, it means you go on vacation earlier!
2. Beach lounger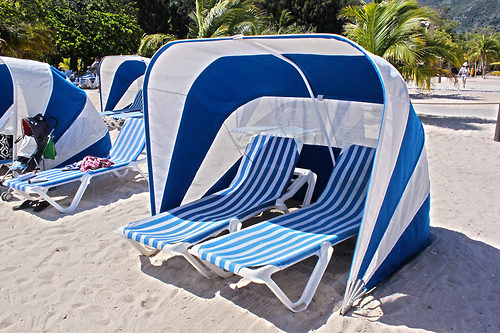 On Royal Caribbean's private destination of Labadee and CocoCay, you will find a serene paradise.  One of the best ways to enjoy paradise is from the comfort of your beach lounger.
Available at both of Royal Caribbean's private destinations, the beach loungers provide privacy, protection from the sun and some nice perks too.
On Labadee, the beach loungers cost just $35 and have room for two guests and get you a private beach, two lounge chairs and beach attendant.
On CocoCay, the beach loungers are $50 and include everything Labadee's beach loungers include, plus you get private tram service, fresh fruit, bottled water and floats.
Not only are the beach loungers comfortable and fun, but they are great values and worth the extra cost.
1. Dine at Chef's Table or 150 Central Park or Wonderland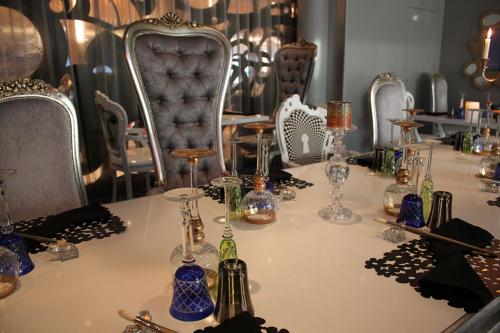 These days, there are so many amazing Royal Caribbean restaurants to choose from and they all have different prices.  If you have the choice, you will want to try at least one of these three specialty restaurants on your next cruise.
Chef's Table, 150 Central Park and Wonderland all come with higher costs than some other specialty restaurants, but the experience at all three are well worth it.
These restaurants offer fantastic service, even better food and ambience to match.
Whether you are looking to celebrate a special occasion or just a special night out, these three choices are perfect and will leave you satisfied with the experience (and the cost).
What do you think is worth the extra cost on a Royal Caribbean cruise? Share them all with us in the comments!