8 things I MUST do on every Royal Caribbean cruise
In: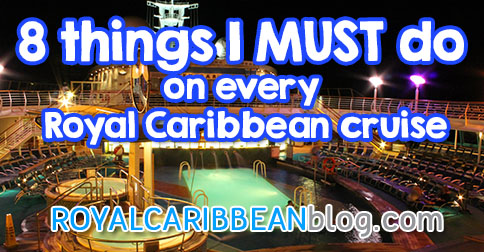 We all have those traditions on a Royal Caribbean cruise that we just feel compelled to do each and every cruise.  There's something about certain aspects of a Royal Caribbean cruise that keep us coming back again and again.  Here are a few must-do things that you just have to try on your next cruise too!
8. Eat at the Windjammer on embarkation day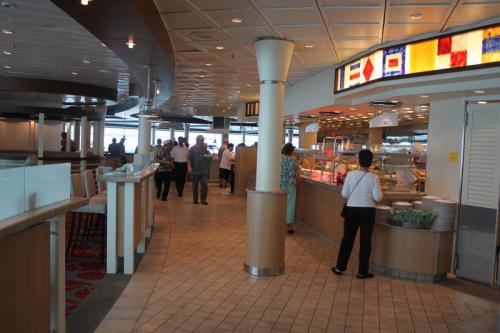 It's not a cruise unless we get to the port a little before noon and get onboard so I can have my first meal in the legendary Windjammer Cafe.
There's something about having my first meal here that cements that feeling inside of "I'm really on a Royal Caribbean cruise again".  For me, it's that moment when I sit down with my plate full of food and a big smile comes across my face.
And oh yea, there's lots of good food to be enjoyed here as well!
7. Watch the Love and Marriage game show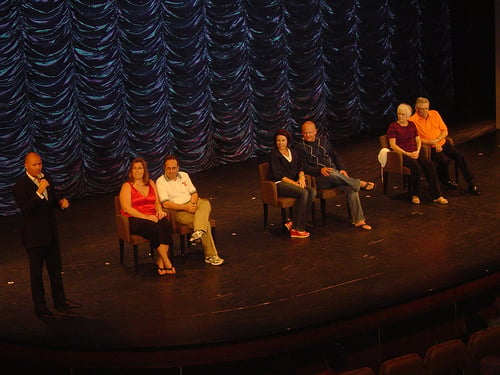 A staple of Royal Caribbean's nighttime entertainment is the Love and Marriage game show.  Even though I think I know all the questions they will ask by heart, the answers the contestants give always make for an entertaining experience.
I freely admit I am far too shy to volunteer for the show, but seeing this show is always a lot of fun and one of the things we will be talking about during the rest of our cruise.
6. Go for a night swim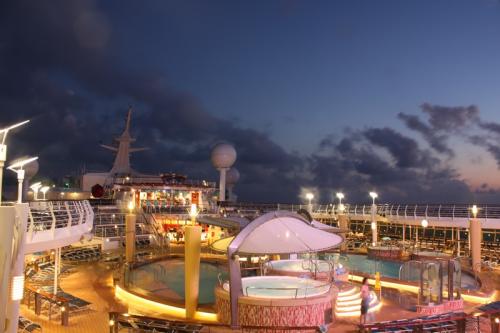 Anyone can swim during the day but on a Royal Caribbean cruise, but I love to put on my bathing suit late after the sun goes down and hop in the pool.  
Night swims are a great experience and with the new giant movie screens near the pools on most Royal Caribbean ships, it's fun to take in a classic film while being in the water.  It's a great family activity and the perfect way to end a fun day.
5. Visit the Loyalty Ambassador to pick out another cruise to book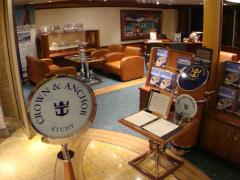 No Royal Caribbean cruise is complete without booking another Royal Caribbean cruise to start looking forward to.  As the days left on our cruise start to wane, I want to have something else to have in mind to make disembarkation day just a little bit easier.
My wife and I will sign up for an appointment with the Loyalty Ambassador and go over some options either back onboard the ship we are on or maybe something completely new.  You know what they say, nothing gets you over the last one like the next one!
4. Eat at Chops Grille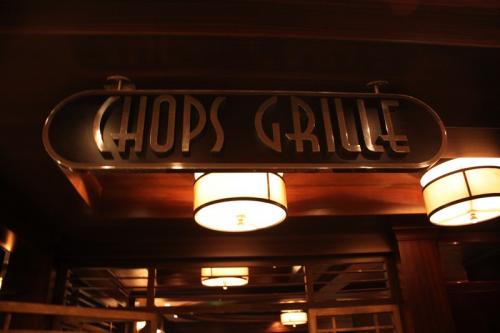 Royal Caribbean offers so many great specialty restaurants to choose from but the one that I always have to go back to is Chops Grille. It's become a staple of Royal Caribbean and it's a restaurant I can always book without even having to consult my wife.
What I love about Chops Grille is the consistently good experience across all ships in the fleet.  Each one we visit is always a memorable experience with some of the best steaks and side dishes we've had in a long while.
3. Watch the shore excursion channel loop through a few times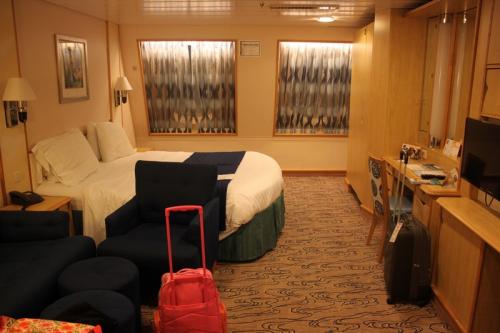 This may be just something silly I do but I really love to watch the shore excursion channel in my stateroom when we're laying around.  There's something about the super market jazz music playing in the background or the monotone voice over descriptions that I just like watching it. 
This guilty pleasure is centered around the idea of watching this channel to get an idea of what to expect in the ports of call we are going to visit but I find the channel strangely memorizing and I'm not afraid to admit it!
2. Sit by the pool while the live band plays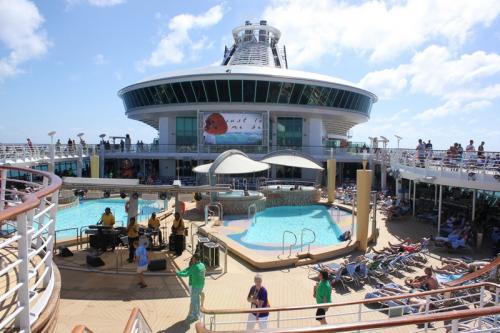 Picture this: a sunny day with maybe just a few clouds passing by, sitting in a lounge chair at the pool deck with an optional drink of the day in your hand and the band playing "Red Red Wine" as you take a sip and close your eyes.  That is the perfect moment on a Royal Caribbean cruise for me.
The live music on a Royal Caribbean cruise is among the best hidden secrets.  Royal Caribbean's dedication to live music has become something I always look forward to and enjoying the live band at the pool is just the icing on an incredible cake.
1. Read the Cruise Compass from cover to cover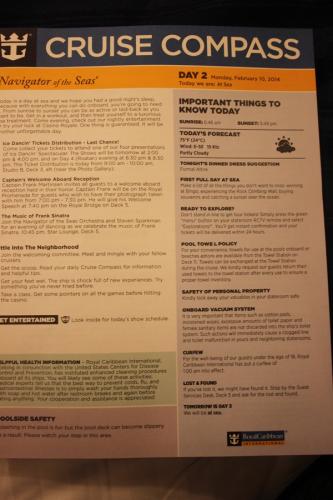 When we get back to the stateroom after a great dinner, the first thing I look for is the next day's Cruise Compass newsletter waiting for me on the bed.
Each evening your stateroom attendant will leave the Cruise Compass on your bed (with perhaps a towel animal surprise too) for you to read and I love reading everything inside.  To me, this is the New York Times of cruising and it's just one of those cruising traditions that I love to do.  Sure, I get a sense of what activities are coming up the next day (Michael Jackson line dancing classes anyone?) but it's also fun to just immerse myself in everything going on around the ship.
Your favorites
Did any of my favorite must-do's make your list?  Share with us your favorite Royal Caribbean traditions in the comments below!