Top Ten Royal Caribbean Dining Tips
In: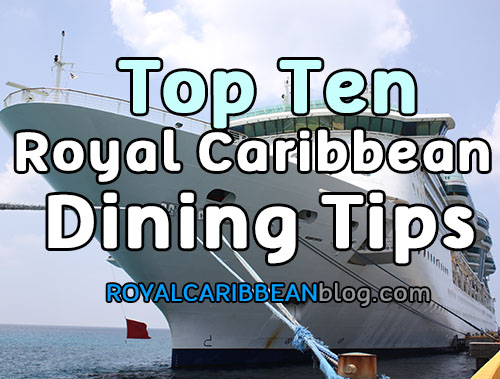 1. Don't order just one anything
Whether you are dining in the main dining room or Johnny Rockets or a specialty restaurant, don't settle for just one entree or one appetizer.  
Royal Caribbean allows passengers to order as much as you want in most cases, which means you are free to try dishes and sample what you want.  Most often passengers act like they do in a land restaurant and only order what they wish to pay for but on a cruise, order as much as you want!
2. Room service is free
Unlike hotels, room service is free onboard Royal Caribbean cruise ships, 24 hours per day.
You can call or order via your stateroom television from a fixed menu of dining choices.  And just like eating in other restaurants, all the room service food is complimentary and you can order as much as you like.
Royal Caribbean does charge a nominal fee for late-night orders but it's just a few dollars.
3. Bring dinner back if you can't make it
If you or someone can't make it to dinner for whatever reason, be sure to tell your waiter that someone cannot make it to dinner and they will be sure to wrap up an entire meal (including dessert) to bring back.
This can be a good option if someone is not feeling up for going to dinner but needs to eat.

4. Bring your own wine
Since November 1, 2012, Royal Caribbean allows passengers to bring two bottles of wine per stateroom onboard their cruise on embarkation day.
You can bring the bottles of wine to any restaurant onboard, although you could be charged a $25 corkage fee.  It can be a great way to save money and expand your choice of wine to enjoy on your cruise.
5. Have your wine follow you
Whether you buy a bottle of wine onboard your cruise or bring your own, if you do not finish that bottle in one night, have your waiter store it for you.  And if the next night you choose to have dinner elsewhere, like the Windjammer or a specialty restaurant, just tell your new waiter you have a bottle of wine stored for you.
They will ask your stateroom number and within a few short minutes your wine will appear.  This is a great way to keep using the same bottles of wine without pressure to "use it or lose it".
6. Drink of the day minus the price
The drink of the day that the crew offers looks mighty tempting, right? But rather than pay the price for the drink of the day, you can get the drink minus the souvenir glass and save a few dollars.
Just ask the crew member for the drink of the day in a regular cup and you will notice the price to be less than the advertised price.
7. Get food allergies and special requests taken care of on day one
If you or someone you are travelling with has a food allergy or a special dietary request, go to the main dining room on embarkation day and ask to speak with the head waiter on duty.
Once you speak with him or her, you can convey any special requests you may have and get it in place for the rest of your cruise.
8. Book any specialty restaurant from any other specialty restaurant
If you want to book a specialty restaurant meal there is no need to walk all the way to that specific restaurant.  Instead, walk to the closest specialty restaurant (or even Guest Relations) and the crew member on duty can book any other specialty restaurant for you on the spot.
9. Use your Crown and Anchor discounts
Crown and Anchor Society members receive coupons for discounts on a multitude of dining and drink options.  
Buy one get one free drink coupons, complimentary cover charge to Johnny Rockets, and discounts on bottles of wine are the typical discounts you can expect to find.  Exact discount amounts depend on your Crown and Anchor Society level but don't forget to use your discount to save money!
10. Use your drink packages on Royal Caribbean's private islands
If you purchase an unlimited alcohol package or soda package on your Royal Caribbean cruise, you aren't limited to drinking just on your cruise ship.
If your cruise visits Coco Cay or Labadee, you can use your drink package privileges on these islands as well and extend the value you get from the package!