Royal Caribbean reports "strong" Fourth Quarter 2011 results
In:
Royal Caribbean reported today its fourth quarter and full year 2011 results along with an initial outlook for 2012.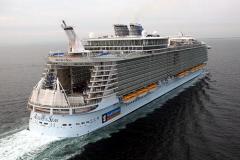 Before the results were even mentioned, Royal Caribbean Chairman Richard Fain commented on the Costa Concordia tragedy, which has gripped the cruise industry in recent weeks, "All of us in the industry, who are so devoted to providing safe and exceptional vacations to millions of people around the world, are devastated and humbled when something like this happens."
Royal Caribbean's fourth quarter of 2011 ended on a strong note with solid bookings and cost control helping to compensate for the rise in fuel costs and foreign exchange impacts.
Royal Caribbean reported net income for 2011 of $607.4 million, versus $515.7 million in 2010.  For the fourth quarter, net income was at $36.6 million, which is up from $31.9 million in 2010.
Issues such as a rise in oil prices and a strengthening U.S. dollar offset profit, but Royal Caribbean was still able to end on a strong note.  Royal Caribbean's Chief Financial Officer Brian Rice commented on how the company was able to beat these issues, "For the year as a whole, adjusted for fuel price increases and geopolitical events, our earnings would have meaningfully exceeded the midpoint of our January 2011 guidance."
Looking forward to 2012, booking patterns at the end of 2011 were strong despite even the Costa Concordia disaster.  During the two weeks prior to the tragedy, Royal Caribbean reported bookings averaged 5% more than the same period last year and at higher prices.
The Concordia disaster is still impacting the cruise industry as a whole and Royal Caribbean says it's "very difficult to asses the impact of the incident on our revenues".