Royal Caribbean Deals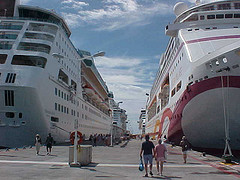 Looking to get away with a hot Royal Caribbean cruise deal? We can certainly understand why you'd want that! Here you can find the latest featured Royal Caribbean cruise deals that we've found on the internet for your enjoyment. You never know what kind of cruise deals you will find!
Each week Royal Caribbean posts new sales for various cruises across its fleet that can offer great discounts on specific sailings in the near future.
This sale runs between April 08 through April 09, 2014, with early access for Crown and Anchor Society members on April 07.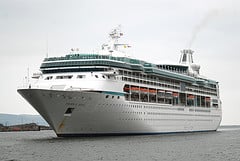 Adventure of the Seas
Itinerary: 14 night ocean voyage - Caribbean & The Azores
Departure Port: Miami
Sail Date: 04/20/2014
Inside: $379 per person (Category Z)
Ocean-view: N/A
Balcony: N/A
Suite: N/A
Allure of the Seas
Itinerary: 7 night Eastern Caribbean Cruise
Departure Port: Fort Lauderdale
Sail Date: 04/13/2014
Inside: $649 per person (Category Q)
Ocean-view: N/A
Balcony: N/A
​Neighborhood Balcony: N/A
Suite: N/A
Allure of the Seas
Itinerary: 7 night Western Caribbean Cruise
Departure Port: Fort Lauderdale
Sail Date: 04/20/2014
Inside: $699 per person (Category L, M)
Ocean-view: N/A
Balcony: N/A
​Neighborhood Balcony: N/A
Suite:$1599 per person (Category JS)
Allure of the Seas
Itinerary: 7 night Eastern Caribbean Cruise
Departure Port: Fort Lauderdale
Sail Date: 04/27/2014
Inside: N/A
Ocean-view: N/A
Balcony: N/A
​Neighborhood Balcony: N/A
Suite: $1699 per person (Category W)
Allure of the Seas
Itinerary: 7 night Eastern Caribbean Cruise
Departure Port: Fort Lauderdale
Sail Date: 05/04/2014
Inside: N/A
Ocean-view: N/A
Balcony: $949 per person (Category D1, D2)
​Neighborhood Balcony: $899 per person (Category B2, C2)
Suite: $1399 per person (Category JS)
Allure of the Seas
Itinerary: 7 night Eastern Caribbean Cruise
Departure Port: Fort Lauderdale
Sail Date: 05/11/2014
Inside: N/A
Ocean-view: N/A
Balcony: $1399 per person (Category D4)
​Neighborhood Balcony: $1099 per person (Category C1)
Suite: $2749 per person (Category JS)
Brilliance of the Seas
Itinerary: 4 night Western Caribbean Cruise
Departure Port: Tampa
Sail Date: 04/17/2014
Inside: $199 per person (Category L, M)
Ocean-view: $219 per person (Category F, G, H)
Balcony: N/A
Suite: N/A
Brilliance of the Seas
Itinerary: 5 night Western Caribbean Cruise
Departure Port: Tampa
Sail Date: 04/21/2014
Inside: $229 per person (Category K)
Ocean-view: $239 per person (Category F, G, H)
Balcony: N/A
Suite: N/A
Freedom of the Seas
Itinerary: 7 night Western Caribbean Cruise
Departure Port: Port Canaveral
Sail Date: 04/13/2014
Inside: $399 per person (Category Q)
Ocean-view: $499 per person (Category I)
Balcony: $699 per person (Category X)
Suite: $999 per person (Category W)
Independence of the Seas
Itinerary: 13 night Ocean Voyage to the UK
Departure Port: Fort Lauderdale
Sail Date: 05/04/2014
Inside: $349 per person (Category K)
Ocean-view: N/A
Balcony: N/A
Suite: N/A
Jewel of the Seas
Itinerary: 7 night Southern Caribbean cruise
Departure Port: San Juan
Sail Date: 05/03/2014
Inside: N/A
Ocean-view: $519 per person (Category G, H)
Balcony: N/A
Suite: N/A
Jewel of the Seas
Itinerary: 7 night Southern Caribbean cruise
Departure Port: San Juan
Sail Date: 05/10/2014
Inside: N/A
Ocean-view: $519 per person (Category G)
Balcony: N/A
Suite: N/A
Jewel of the Seas
Itinerary: 7 night Southern Caribbean cruise
Departure Port: San Juan
Sail Date: 05/24/2014
Inside: N/A
Ocean-view: $699 per person (Category G, H)
Balcony: N/A
Suite: N/A
Liberty of the Seas
Itinerary: 5 night Western Caribbean Cruise
Departure Port: Fort Lauderdale
Sail Date: 04/26/2014
Inside: $249 per person (Category K, L, M, N)
Ocean-view: N/A
Balcony: N/A
Suite: N/A
Navigator of the Seas
Itinerary: 7 night Western Caribbean Cruise
Departure Port: Galveston
Sail Date: 04/20/2014
Inside: N/A
Ocean-view: $408 per person (Category G, H)
Balcony: $475 per person (Category D1)
Suite: $1324 per person (Category JS)
Oasis of the Seas
Itinerary: 7 night Eastern Caribbean Cruise
Departure Port: Fort Lauderdale
Sail Date: 04/19/2014
Inside: $649 per person (Category L, M)
Ocean-view: $729 per person (Category F, H)
Balcony: N/A
​Neighborhood Balcony: $749 per person (Category B2)
Suite: N/A
Oasis of the Seas
Itinerary: 7 night Western Caribbean Cruise
Departure Port: Fort Lauderdale
Sail Date: 04/26/2014
Inside: N/A
Ocean-view: N/A
Balcony: $999 per person (Category D1, D2)
​Neighborhood Balcony: N/A
Suite: N/A
Oasis of the Seas
Itinerary: 7 night Western Caribbean Cruise
Departure Port: Fort Lauderdale
Sail Date: 05/10/2014
Inside: $769 per person (Category L)
Ocean-view: $929 per person (Category F, H)
Balcony: $1029 per person (Category D2, D4)
​Neighborhood Balcony: $1009 per person (Category C1)
Suite: $2349 per person (Category GS)
Oasis of the Seas
Itinerary: 7 night Western Caribbean Cruise
Departure Port: Fort Lauderdale
Sail Date: 05/24/2014
Inside: $699 per person (Category L)
Ocean-view: $789 per person (Category F, I)
Balcony: $899 per person (Category D6, D7, D8)
​Neighborhood Balcony: $849 per person (Category B2, C1)
Suite: N/A
Oasis of the Seas
Itinerary: 7 night Eastern Caribbean Cruise
Departure Port: Fort Lauderdale
Sail Date: 05/31/2014
Inside: $769 per person (Category L)
Ocean-view: $849 per person (Category F, H)
Balcony: $949 per person (Category D3, D4, D6, D7)
​Neighborhood Balcony: $899 per person (Category B1, C1)
Suite: $1689 per person (Category JS)
Oasis of the Seas
Itinerary: 7 night Western Caribbean Cruise
Departure Port: Fort Lauderdale
Sail Date: 06/07/2014
Inside: $849 per person (Category M, N, Q)
Ocean-view: $909 per person (Category CV, F, I)
Balcony: $979 per person (Category D4, D6, D8)
​Neighborhood Balcony: $949 per person (Category B2, C2)
Suite: N/A
Oasis of the Seas
Itinerary: 7 night Eastern Caribbean Cruise
Departure Port: Fort Lauderdale
Sail Date: 06/14/2014
Inside: $959 per person (Category M, N, Q)
Ocean-view: $999 per person (Category F, I)
Balcony: $1069 per person (Category D4, D5, D6)
​Neighborhood Balcony: $1039 per person (Category B2, C2)
Suite: $1689 per person (Category JS)
Splendour of the Seas
Itinerary: 8 night Barcelona to Venice cruise
Departure Port: Barcelona
Sail Date: 05/09/2014
Inside: $829 per person (Category K, L)
Ocean-view: N/A
Balcony: $2229 per person (Category E1)
Suite: $2829 per person (Category JS)
Serenade of the Seas
Itinerary: 7 night Bahamas cruise
Departure Port: New Orleans
Sail Date: 04/19/2014
Inside: N/A
Ocean-view: $499 per person (Category F, H)
Balcony: $699 per person (Category D1, D2, E1, E2, E3)
Suite: N/A
Serenade of the Seas
Itinerary: 11 night Italian Mediterannean cruise
Departure Port: Barcelona
Sail Date: 05/12/2014
Inside: $1329 per person (Category K)
Ocean-view: $1429 per person (Category G, H)
Balcony: N/A
Suite: N/A
Serenade of the Seas
Itinerary: 12 night Italian Mediterannean Greek Isles cruise
Departure Port: Barcelona
Sail Date: 05/23/2014
Inside: $1449 per person (Category K, L, N)
Ocean-view: $1549 per person (Category G, H)
Balcony: N/A
Suite: $3449 per person (Category JS)
Serenade of the Seas
Itinerary: 12 night Italian Mediterannean Venice cruise
Departure Port: Barcelona
Sail Date: 06/04/2014
Inside: N/A
Ocean-view: $1399 per person (Category G, H)
Balcony: N/A
Suite: $3549 per person (Category JS)
Vision of the Seas
Itinerary: 12 night Italian Mediterannean Venice cruise
Departure Port: Fort Lauderdale
Sail Date: 04/29/2014
Inside: $169 per person (Category K, L)
Ocean-view: $199 per person (Category G1, I)
Balcony: $299 per person (Category D1)
Suite: N/A