The secrets to taking better photos on your Royal Caribbean cruise
In:
Going on a Royal Caribbean cruise means you will be seeing new sights, both on your ship and on land, with the opportunity to see ancient architecture, nature at its finest and incredible cities. Naturally, capturing these moments through photos is something many people want to do because it provides the perfect souvenir from any vacation.
Whether you are shooting with a fancy DSLR camera or just your smartphone, there are some good strategies to employ, which can ensure some lovely photos after your trip is complete.
Practice before your cruise
Whether you just purchased a new camera or have had it for years, it is important to get acclimated to the nuances of your camera before your cruise.  The more you can practice, the better your cruise photos will come out.  
Try going to a local beach or lake to practice beach photos, or take photos at the mall or shopping center to get used to indoor photography.  Regardless of if you have a DSLR camera or a point-and-shoot, the key to taking better photos is knowing how your hardware works and trying things out.
Plan your shots
While you cannot anticipate every photo you will take on a cruise, doing a bit of research into the type of photos you want to take can mean you do not come home with regrets about missing out on a photo idea. If you have cruised before, think about the sort of spots you might want to take photos and make notes about which ones are important to you.  Perhaps a family photo on the balcony, or the kids meeting Shrek on the Royal Promenade.
If you are new to cruising, or new to the ship, consider looking through what others have shot and use that for inspiration for your own photos. Flickr is a great resource for seeing other people's cruise photos, and it might serve to offer ideas you had not thought of previously.
Invest in a good smartphone app
The standard photo app on your smartphone seems like it can do a lot, but third-party apps can provide a lot of extra features that can make taking great photos easier.  Look for smartphone apps that offer additional features, such as a grid overlay that helps establish the Rule of Thirds when taking a photo. Composition of the photo is arguably one of the most important factors to creating a great photo, and you want to ensure the subject of your photo is properly aligned, and what is important in the photo is the focal point of the shot.
In addition, a good app will provide additional settings to manually control things like the image sensor (ISO), shutter speed and focus on the smartphone camera. You may not need it all every time, but having some control over these sort of features can help a lot depending on the type of photo you are taking.
Seek good lighting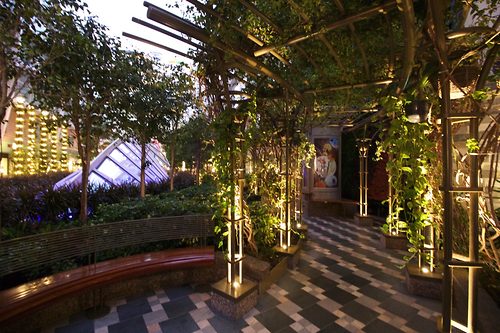 Regardless of what you use to take photos, or where you are, ideally you will want photos that have plenty of light.  The more light, the less shadows and off-colors you will run into.  
Having well-lit photos is important, so try for when the light will be lower in the sky (early or late in the day). Also, the mid-day sun is typically the hottest and can be harsh, so work around that time to have photos that will come out well, and subjects who are not dealing with higher temperatures.
Of course, a cruise has so much subject matter available to shoot, so it all comes down to what you see as beautiful. Sunrise, sunset and the "blue hour" are the times of days many photographers always look for when shooting.
Check your corners before taking a photo
A common mistake aspiring photographers make is not accounting for everything in the shot.  A good way to avoid unwanted objects or people in your shot is to look at every corner of the frame to see what will show up in the background and in the photo minus the subject.
Look for objects, people, and obstructions that if you just shift a little to one side or another can improve the photo greatly.
Avoid the flash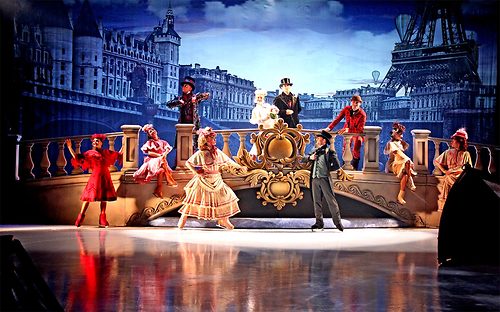 Regardless if it is day or night, do not use the flash on your camera. Ever.  The flash will flood the foreground with bright light at the moment of the photo is taken but often colors get washed out and the background disappears.
What you want to do instead is learn to control the shutter and aperture of your lens to control the amount of light that is let in without the assistance of a flash. Most cameras have these sort of controls and even smartphone cameras now have basic options to assist.
To avoid blurry photos when using this technique, try to stabilize your shot.  Use nearby stationary objects like garbage cans (or bring a tripod) to take a steady shot.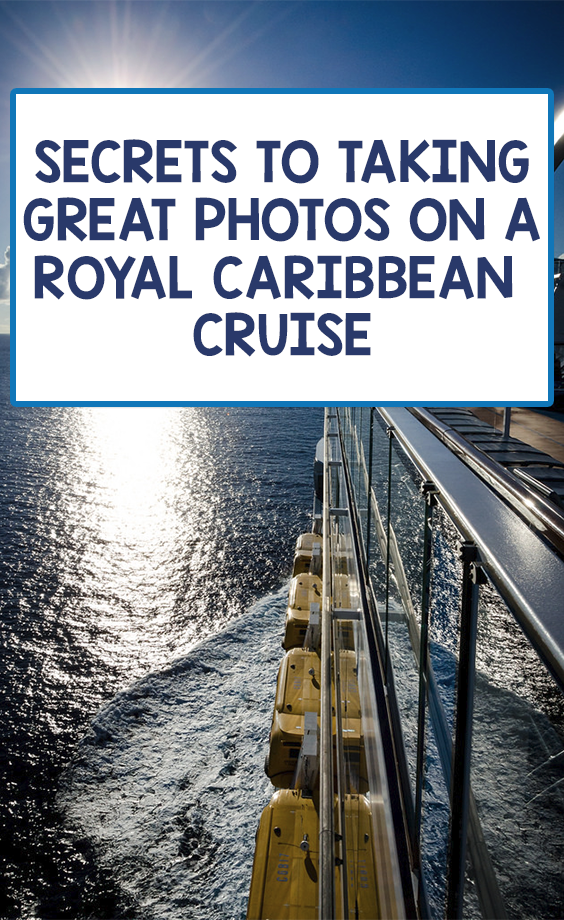 Your thoughts
What are your tips for better photos on a Royal Caribbean cruise? Any recommendations or ideas of your own that you would like to share? We love hearing from readers, so if you have any other comments or questions, please feel free to post those, too.