5 things to love about Royal Caribbean's Navigator of the Seas
In:
Have you cruised on Royal Caribbean's Navigator of the Seas? It may not be the newest or largest ship in the fleet, but Navigator of the Seas is a fantastic ship for a vacation that offers cruises in the Caribbean and Europe, depending on the time of year. Once onboard Navigator of the Seas, it is easy to see why this ship is a lot of fun. Here are five of the many reasons we love Navigator of the Seas.
5. Royal Promenade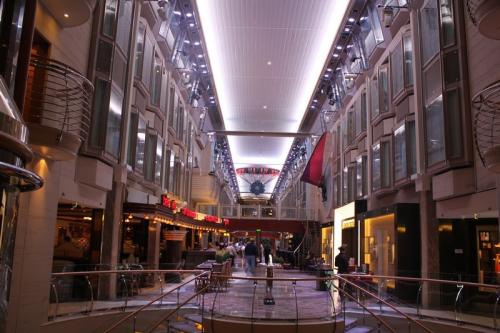 No matter how large Royal Caribbean ships get, the Royal Promenade remains a favorite feature that captures the imagination of all who experience it themselves. The Royal Promenade is a focal point of activities onboard, and also a hub of dining and shopping options. 
Pubs, lounges and many shops the line the Royal Promenade and are a great for guests to stroll down anytime of day and explore what is available. In addition, guests will find a number of activities on the Royal Promenade to enjoy. Demonstrations, parades and meet-n-greet opportunities are just some of the things to do on the Promenade.  In short, there is lots to enjoy and besides the pool deck, the Royal Promenade might be the spot onboard Navigator of the Seas you spend the most time.
4. R-Bar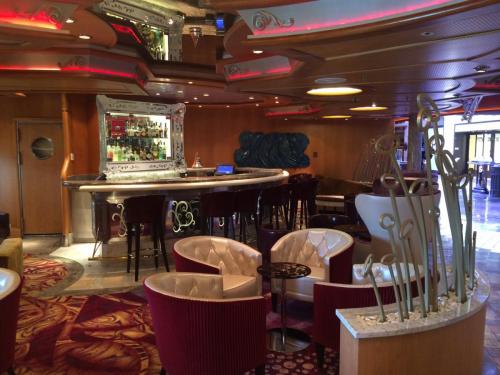 When you consider what makes for a great bar experience and very likely the answers will line up with what is offered at the R-Bar on Navigator of the Seas.
R-Bar is a throwback experience, with hand-crafted cocktails provided by some of the best bartenders and servers we have met on any cruise ship. Guests will find a sophisticated 1960s vibe, complete with iconic furnishing throughout the bar.  In fact, the swanky chairs are as comfortable as they are fun to look at.
When ordering drinks at the R-Bar, be sure to look at the special drink menu created just for the R-Bar on Navigator of the Seas.  If you are not sure what to order, ask your server for a recommendation. The R-Bar staff is wonderful at making recommendations and even creating custom drinks based on a particular spirit you enjoy.
3. Virtual balcony staterooms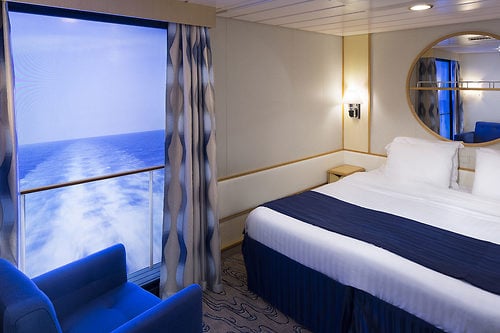 Did you know Navigator of the Seas was the first Royal Caribbean cruise ship to offer virtual balcony staterooms? Balcony staterooms are always highly desirable because of the fantastic views, but balcony staterooms also come with a higher price tag. Royal Caribbean innovated with a new kind of stateroom that brought the balcony experience to an inside stateroom, with the added benefit of being significantly cheaper than a real balcony stateroom.
Virtual balcony staterooms are inside staterooms with an 80-inch high definition LED screen attached to a wall that delivers views outside of the ship, just like a real balcony stateroom. Guests can turn the virtual balcony off at any time, especially at night when sleeping but it's available anytime they want.
The screen stretches from floor to ceiling and will show you exactly what you would see if you had a real balcony.  Using high definition cameras, these virtual balconies give you a glimpse of what's outside.
2. FlowRider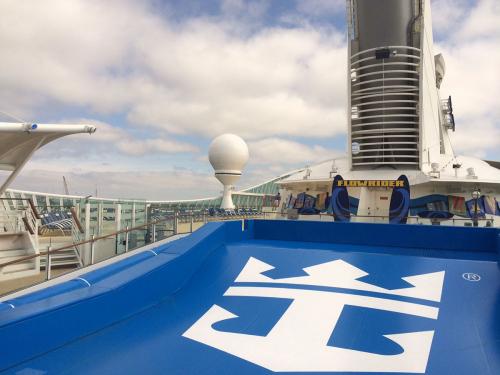 In 2014, Royal Caribbean went as far to add an iconic Royal Caribbean experience to Navigator of the Seas, the FlowRider surf simulator.
The FlowRider is a simulator that sends water a very high speed across a small area that mimics what it is like to surf on the ocean. Guests can try their hand at stand-up traditional surfing or boogie boarding.
The FlowRider is included in your Royal Caribbean cruise fare, and you may try your hand at surfing as many times as you like. Just hop back in line and wait for a turn.
1. Specialty restaurants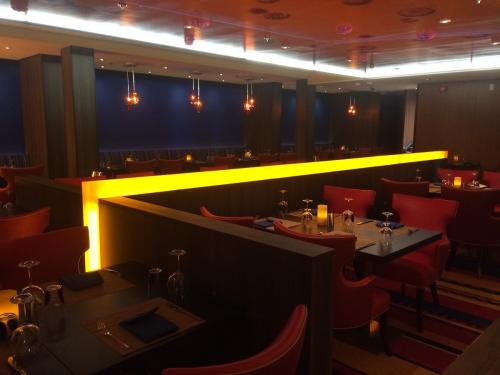 We love to indulge on any Royal Caribbean cruise with some great food, and Navigator of the Seas has plenty of it.  In addition to the terrific food included with your cruise, there are a number of great specialty restaurants to consider dining at onboard.
Chops Grille is known across the fleet for amazing steaks that are tasty, cooked to perfection and a fan-favorite restaurant.  They even have dry-aged steaks as an option for guests that want the very best flavor in their steaks. 
Guests that enjoy classic Italian food will really enjoy Giovanni's Table, a specialty restaurant that serves up classics like lasagna, hand-made pasta and some great seafood.
We would be remiss if we did not mention Sabor Modern Mexican, a specialty restaurant first introduced on Navigator of the Seas, that serves some of the tastiest food we have found on a cruise ship. Tableside guacamole, handcrafted margaritas and a wide variety of tacos, quesadillas and lots of other Mexican favorites. 
Your favorite
What is your favorite thing about Navigator of the Seas?  Is it on our list or do you have something you think is worth the cruise fare alone? Tell us about in this blog post's comments!