6 cool things for kids to do on your Royal Caribbean cruise
In:
Kids can get just as excited as their parents for a Royal Caribbean cruise vacation, because there are lots of fun things for them to do onboard. Cruising with kids is an exercise in energetic adventures, big smiles and hopefully a nap inbetween. In our many Royal Caribbean cruises, we have discovered certain aspects of the cruise that are real winners with our children and wanted to share them with you.
Consider some, or all, of the following fun things for your kids to do on your upcoming Royal Caribbean cruise!
Meet DreamWorks characters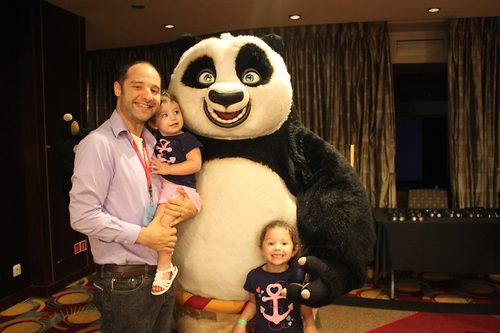 Ever since Royal Caribbean partnered with DreamWorks to bring their characters onboard Royal Caribbean's cruise ships, it has been a big hit. Guests on select Royal Caribbean ships can meet characters from some of the most popular DreamWorks Animation films.
DreamWorks Animation characters including Po of Kung Fu Panda; Shrek, Fiona and Puss in Boots of Shrek; and from Madagascar, Alex the Lion, Gloria the Hippo, King Julien and the Penguins will be available for guests to meet. There are meet locations set up throughout the cruise, with times and spots listed in the Cruise Compass.
Royal Caribbean cruises are great for meeting characters because the lines are quite short and the characters regularly engage in fun antics with the kids.  The interactions are whimsical and make for really great photo opportunities!
Decorate your stateroom door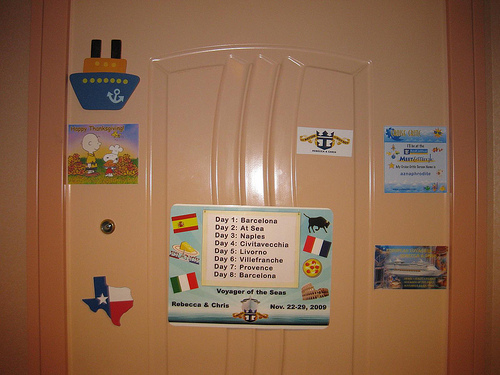 Your Royal Caribbean stateroom door is made of metal, which means it is magnetic and a great family project prior to the cruise to create the decorations.  It can be a fun family activity to come up with different ways to personalize your door to share with everyone how excited you are for the cruise.
Often you will find other doors decorated with pictures, magnets of various sizes and shapes, leis, and more.  Your kids could draw something to put on the door, or you could help them create name tags to decorate and then put on the door with magnets.
Keep in mind that you will need to supply your own magnets to affix anything to the stateroom door.  Tape is not allowed.
For those less artistically inclined, Royal Caribbean does offer stateroom decorations for purchase that can be delivered and set up for you.  This can be a great way to celebrate a special occasion, or just plain surprise the children.
Eat ice cream by the pool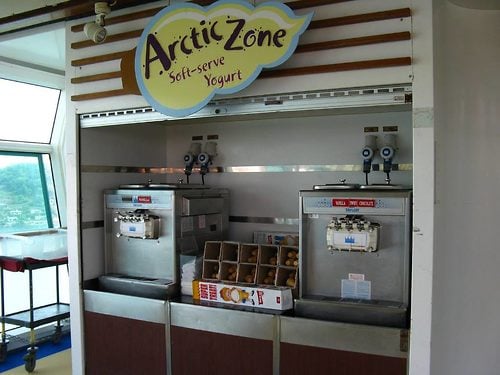 Near the pools, you will find free soft serve ice cream that is available most times of the day and there is as much of as you want. I do not think there needs to be any more elaborating.
Ride the carousel
If you are going on an Oasis class cruise ship (Oasis of the Seas, Allure of the Seas or Harmony of the Seas), then your family must go on a carousel ride in the Boardwalk neighborhood.
Royal Caribbean commissioned for each ship a hand-crafted carousel that is inspired by turn-of-the-century carousels. These carousels are as pretty look at, as they are fun to ride.  Plus, rides on the carousel are included in your cruise fare.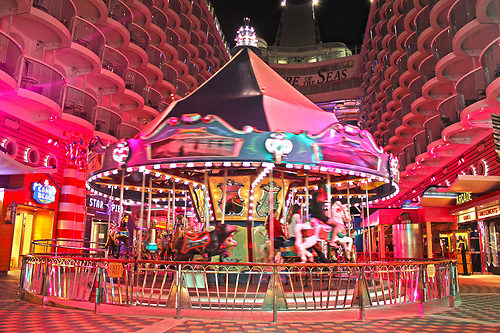 Be sure to also get some nighttime carousel rides in too, because the carousel and the entire Boardwalk neighborhood are lit up beautifully once the sun goes down.
Decorate a cupcake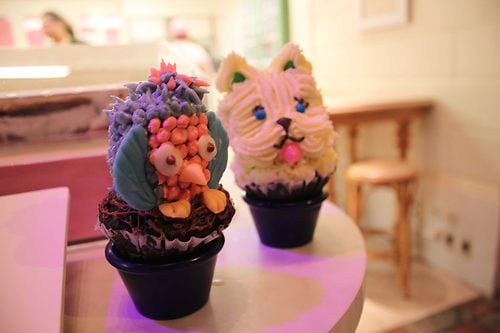 What is better than eating cupcakes? Decorating and then eating a cupcake! Many Royal Caribbean ships offer guests the opportunity to learn to decorate cupcakes in a quick and fun class.  There are classes for kids and adults, but the experience is quite similar.
Kids can let their decorating imagination run wild with icing, sprinkles and a host of other toppings during a cupcake decorating class. There is a nominal charge for this experience, but this will be something your children will clamor to do and probably want to do again and again (making a mess and eating cake, what could be better?).
See a movie at night, in the pool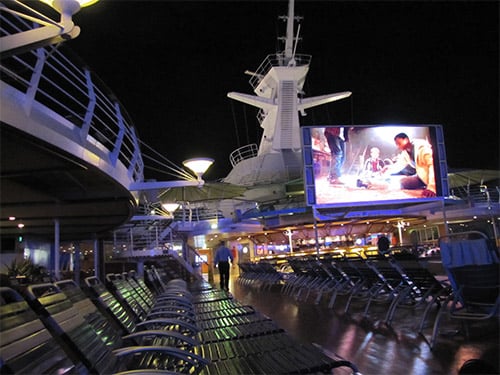 If there are two things kids love, it is swimming and watching movies.  On Royal Caribbean ships, you will regularly find popular feature films shown on the big screen near the pool each evening.  After dinner, you and the kids can hop in the pool and splash away while enjoying a great flick!
Royal Caribbean shows all sorts of films, from recent releases to classics, and adding in the ambiance of a night swim is always a fun treat as well.  Plus, the pools and hot tubs are much less busy at night, so that means more opportunity for your kids to act like kids and enjoy time in the pool while everyone in the family gets to enjoy a great flick.