5 things to love about Royal Caribbean's Independence of the Seas
In:
Royal Caribbean's Independence of the Seas is a popular ship that offers cruises in Europe and North America throughout the year.  There is a lot to love about this ship, and we have five important facts you should be aware of before your next cruise on Independence of the Seas.
5. Grease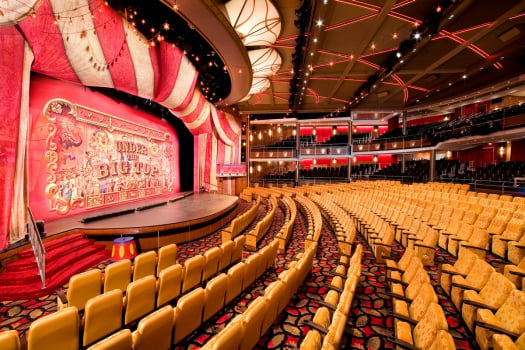 In 2016, Royal Caribbean added the Broadway musical, Grease, to Independence of the Seas and it is available to enjoy on your cruise with no additional cost.
This stage production of Grease was specially adapted by Royal Caribbean Productions and features all of your favorite songs, such as "Summer Nights," "Greased Lightnin'," "Look at Me, I'm Sandra Dee," "Born to Hand-Jive," "Beauty School Dropout" and more.
The best news about Grease on Independence of the Seas, is that the show is included in the cost of your cruise fare, so you can enjoy a Broadway show while onboard for absolutely no additional cost.
4. Views from the helipad
Independence of the Seas has a large helipad at the bow of the ship, which is a great venue for guests to enjoy during most times.  The helipad is the perfect spot for sailaway, stargazing, enjoying a view of the ocean or just a spot to sit down on one of the benches and relax.
To access the helicopter pad, go outside on deck 4 and then walk forward, climb up a set of stairs and continue walking forward until you reach the helicopter pad.
If you want to go out to the helipad and avoid the flight of stairs out on deck 4, you can cut through Pyramid Lounge on deck 5 at the front of the ship. Walk in and you'll see a DJ booth on the right. Walk past that booth and you'll see a set of doors that look like they're crew only, but they're not. They lead right out to the entrance to the helipad. Only a short flight of stairs and you are there.
3. Cantilever hot tubs
Hot tub Jacuzzis are always a great way to relax and forget all of your worries, and on Independence of the Seas, there are cantilever hot tubs that offer as wonderful a view as they are comfortable.
The hot tubs on Independence of the Seas are 16-person, half-moon whirlpools that cantilever out 12 feet over the ship's side, to offer some incredible views of the ocean below.  And oh yea, they are super relaxing too.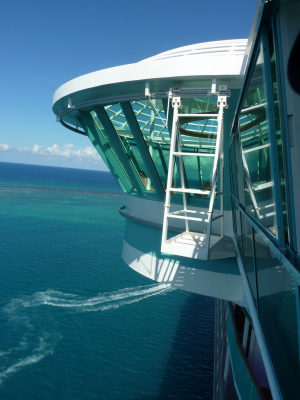 2. Five bars to visit late at night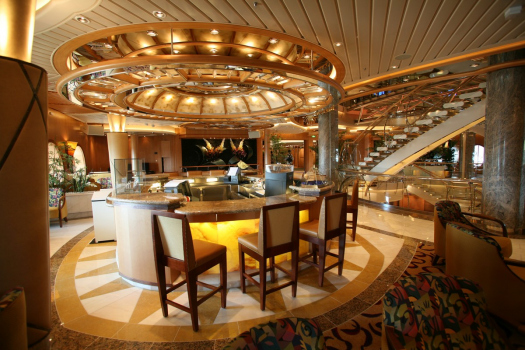 If your idea of a fun cruise is staying up late and enjoying drinks while perhaps dancing, talking or relaxing into the late hours of the evening, then there are a few bars you will find open later than others.
On Independence of the Seas, the Casino Bar, Boleros, Schooner Bar, The Raven and the Connoisseurs Club remain open later than other bars.  
Guests who want to avoid an (earlier) last call notice, should head to one (or a few) of these locations to enjoy uninterrupted late-night beverages.
1. FlowRider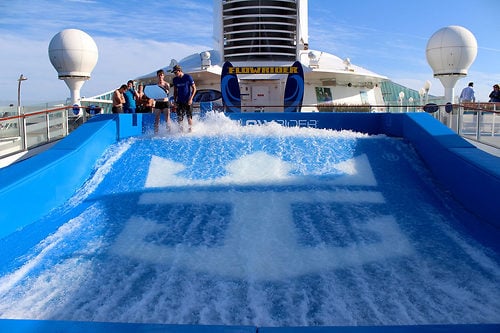 One of the more popular features on Independence of the Seas is the FlowRider surf simulator on deck 13.
The FlowRider is a simulator that sends water a very high speed across a small area that mimics what it is like to surf on the ocean. Guests can try their hand at stand-up traditional surfing or boogie boarding.
The FlowRider is included in your Royal Caribbean cruise fare, and you may try your hand at surfing as many times as you like. Just hop back in line and wait for a turn.
There is the opportunity to book private lessons for an additional cost.  At last check, private lessons cost $60 per person and lasts about an hour. Each lesson will have six to eight guests.
Private lessons can be booked onboard the ship and is sometimes available via the Royal Caribbean Cruise Planner.
Your favorite
What is your favorite thing about Independence of the Seas?  Is it on our list or do you have something you think is worth the cruise fare alone? Tell us about in this blog post's comments!