7 ways Royal Caribbean has revolutionized the cruise industry
In:
We love taking Royal Caribbean cruises because of the amazing experiences available onboard, and as fans of the company, it occurs to us that sometimes Royal Caribbean does not get enough credit for some of the innovations it has brought to the cruise industry over the years.
Innovation is a byproduct of competition among the cruise lines, and Royal Caribbean has brought about a number of changes to its ships with the goal differentiating it from other cruising choices that have since set the new standard for what guests expect onboard.  As guests, we love seeing what Royal Caribbean comes up with next.  It is what makes the cruise line different, special and most importantly, a heck of a lot of fun.
Here are our list of the top seven innovations Royal Caribbean brought about that have since changed the cruise industry.
1. Activities that can be done at sea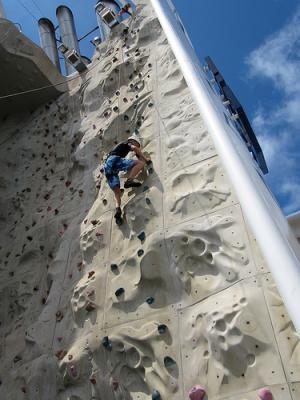 Historically, cruise ships were built following the model set forth by ocean liners of the classic period of transportation.  These ships were designed to be a floating hotel that offered rest, relaxation and a great view.  But as times changed, guests wanted to do more onboard and have a greater variety of choices with it.
Royal Caribbean first made an impact when it added the rock climbing walls to its Voyager-class ships, which were an onboard activity that was previously not available anywhere.  More importantly, it introduced the concept of guests being able to do physically activities onboard that were never considered previously.
The rock climbing wall became incredibly popular with guests and was expanded to all ships in the fleet, becoming a staple of a Royal Caribbean cruise experience.
Royal Caribbean then expanded on the idea of offering even more fun activities on its ships, by offering FlowRider surf simulators, ice skating, bumper cars and a lot more.  Cruise ships today on any cruise line are incomplete without the sort of physical activities first introduced by the rock climbing wall.
2. Virtual balcony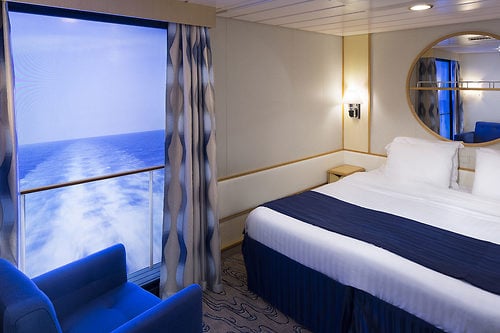 Nearly everyone loves the idea of a balcony stateroom, but the price of a balcony stateroom is not always practical for everyone's budget.  When Royal Caribbean was designing its Quantum-class cruise ships, they came up with an idea for a balcony experience without the balcony price: virtual balcony staterooms.
Virtual balconies are 80-inch LED televisions that are in inside staterooms on select Royal Caribbean ships that provide live HD views from outside the cruise ship, right into your stateroom. The screens are 4K ultra high definition capable screens that stretch from floor to ceiling and receive a video feed from the ship's cameras that are mounted at the stem and stern of the ship.  
Virtual balcony staterooms were "inspired" in part by Disney Cruise Line's Virtual Porthole cabins, but Royal Caribbean took the idea and expanded upon it to create something completely different and virtual balcony staterooms have now expanded to many different ships across the fleet.
3. Broadway shows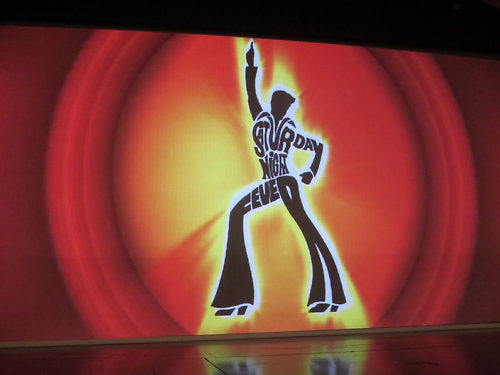 Cruise ships have offered musical revues and original productions for many years, but Royal Caribbean was the first to bring an actual Broadway show to be shown to its guests in its entirety onboard a ship.
Royal Caribbean debuted the hit-Broadway show, "Hairspray," on Oasis of the Seas and that marked a dramatic shift in the entertainment a cruise ship could offer.  Instead of just a few songs from a show, or stage productions that tried to emulate a Broadway show, Royal Caribbean opted to bring the real thing onboard its ships.
In the years since, Royal Caribbean has expanded the amount of ships that offer Broadway shows to include some fan-favorites, such as Mamma Mia!, Cats, Saturday Night Fever, and We Will Rock You.
4. Specialty restaurants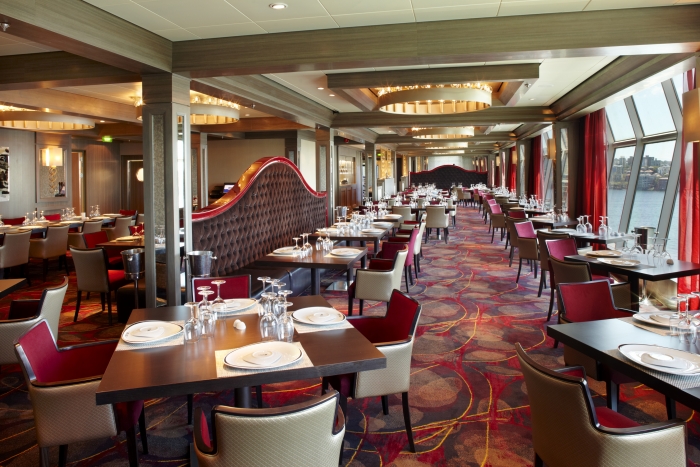 If you can remember back to pre-2009, cruise ships offered specialty restaurant options but there were just a couple of choices available.  Most ships had one to two specialty restaurants, and they were not nearly as prevalent as specialty dining today. What changed all of that, was the Oasis-class ships that brought a greater array of specialty dining choices never seen before on a cruise ship.
Oasis of the Seas offers more than 20 dining options onboard its ships, including a number of specialty dining choices.  Instead of one or two, guests can pick between Chops Grille, Sabor, Giovanni's Table, 150 Central Park, Johnny Rockets and Izumi, just to name a few.
Since the debut of Oasis of the Seas, the entire cruise industry has taken notice and new and existing cruise ships greatly expanded the number of dining options available.  Guests love the greater variety of choices, while the cruise lines reap higher onboard spending.
5. Built the largest cruise ships in the world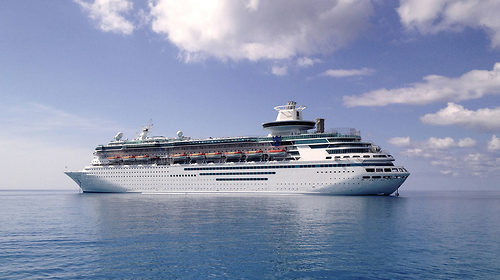 Many times, Royal Caribbean cruise ships have claimed the title of being the largest in the world, and Royal Caribbean's commitment to building bigger and bigger ships have compelled the rest of the cruise industry to follow as well.
Going back to 1988, when Sovereign of the Seas launched, she was the largest passenger ship in the world.  Sovereign-class ships was the first modern "megaship" to be built, and were also the first class of cruise ships to include a multi-story atrium with glass elevators.  They also had a single deck devoted entirely to cabins with private balconies instead of ocean view cabins.
The rest of the cruise lines took notice and began building bigger ships, as well as ships that had the kind of industry-first innovations like a Centrum.
Many new ships have been built since the days of Sovereign, but Royal Caribbean's Freedom-class and Oasis-class ships continued the tradition set forth by the Sovereign-class.  In fact, the entire industry has built larger and larger cruise ships over the years and this trend can be traced directly back to Royal Caribbean's Sovereign of the Seas.
6. Social media in advertising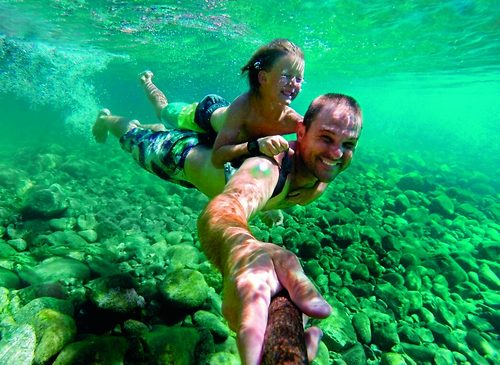 Cruise lines have advertised cruise vacations for many years in traditional media, with print, radio and television advertisements being the normal means of spreading the word about new ships, deals and getaway ideas.  In 2015, Royal Caribbean completely re-considered its marketing strategy with a new approach that sought to "break through" the usual expectations and reach guests with a vastly different marketing campaign.
Royal Caribbean's "Come Seek" campaign was geared toward the next generation of cruises that leveraged a variety of sales channels, including notably social media.
Royal Caribbean added 230 geo-targeted units across New York City that are capable of showing live broadcasts via Periscope in high traffic commuter areas, such as John F. Kennedy International Airport terminal, newsstands and subways. With these units, Royal Caribbean could provide live tune-ins from the ships to show off the experience as it's happening in real time.
This, and other social media advertising endeavors, forged a new era of marketing that aimed to get past the sort of traditional produced and polished advertising people expect to see, and instead, capture their attention with authentic experiences.
7. True high speed internet at sea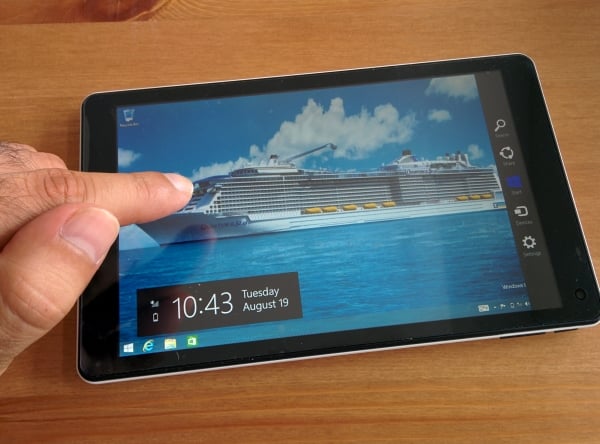 Royal Caribbean's latest innovation is perhaps its most impressive and least-celebrated achievement: offering the kind of high speed internet experience on its cruise ships that guests have had for years on land.
Offering internet service on a cruise ship is nothing new in the industry, as nearly all cruise lines offer internet service onboard, but internet at sea is ridiculously slow compared to what guests have enjoyed at home or work.  Traditional internet on cruise ships were limited to basic web browsing, with absolutely no support for video streaming and constant disconnects and poor overall experiences.
Royal Caribbean partnered with O3b Networks to provide a next-generation satellite internet service, known as Voom, that allows guests to do everything they are accustomed to doing on land while on their Royal Caribbean cruise.
With Voom, guests can surf, stream and share their vacation experiences with their friends and family back home without any of the slow speeds that have traditionally hampered sea-based internet solutions.  Moreover, Royal Caribbean expanded Voom service to every ship in its fleet earlier this year, which means no one has to take a Royal Caribbean cruise with a slow internet connection again.
Your thoughts
Which innovations do you think Royal Caribbean deserves recognition for the most? Is there something that stands out in your mind? Tell us about in the comments.