Planning a Royal Caribbean cruise: Labadee
In:
In just a matter of weeks, I will be going on my next Royal Caribbean cruise, and I want to take you along for the planning of my cruise with what my plans are for shore excursions.  I hope this will give you some insight into my thought process and perhaps this will assist you for planning your next Royal Caribbean cruise too.
Today, we are going to look at excursion ideas for one of our stops on Quantum of the Seas 8-night cruise, Royal Caribbean's private island of Labadee.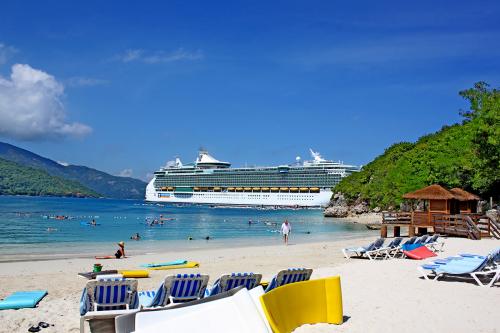 Background
Labadee is a private "island" that Royal Caribbean leases from Haiti and it's one of my favorite places to visit for it's sheer beauty.
Labadee was designed to be the perfect destination relax and enjoy the beach.  There's a little shopping and some quaint cultural options but if you're going to Labadee, it's for the beach experience.
I've been to Labadee three or four times now and it seems like I always do the same thing: grab a spot on the beach and enjoy.  There's nothing wrong with that but I would like to try something else besides just a swim and getting a tan.
When I began doing research into what's available to do besides just swimming, I quickly remembered why I primarily just did the beach thing and that's the cost of the other activities. I would not characterize the options as prohibitively expensive but it does give me pause.  
The Options
After some looking around Royal Caribbean's Cruise Planner app, I came up with these excursion ideas.
Dragon's Tail Coaster
A few years ago, Royal Caribbean built an alpine coaster that descends down to the beach from a 680-foot height.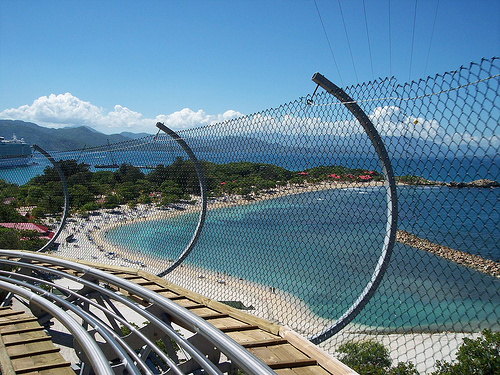 Photo by drum881
It's set on Santa Maria's lookout mountain and promises a 30 miles per hour ride with 360-degree turns.  There's a great view at the top and along the way, along with a little thrill.
A single ride costs $26 and an all-day pass costs $36, so if I were to ride more than once I would "break even" on the cost.  Of course, the question is how many times would I really want to ride.  If I were to ride three times, would I just be riding three times to get my money's worth or would I genuinely find it something I'd want to do again and again.
Pros: Something new to try; Fairly inexpensive
Cons: All-day pass may not be worth it
Dragon's Splash Waterslide
I actually was not aware this was an option until I looked over the excursions.  Dragon's Splash Waterslide is an almost 300-foot slide that drops you into an 18-foot splash zone.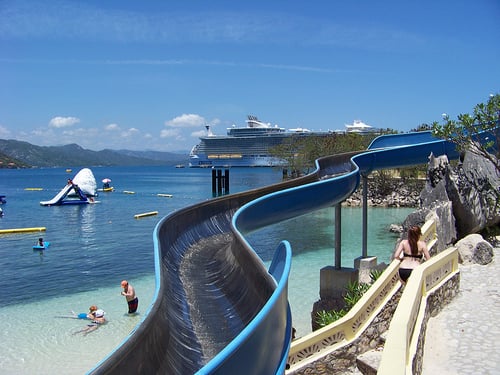 Photo by TravnKC
It's hard to describe this anymore than I have, after all, it's a waterslide! They are fun but is it something I really need to try?  I've also heard that the metal can get hot in the sun (it's made out of stainless steel).
Pros: I haven't met a waterslide that wasn't fun to go down
Cons: $24 for one ride is rather pricey. 
Dragon's Breath Flight Line Tour
If you ask me, this is the pièce de résistance of Labadee. This 2,600 foot zip line gives you arguably the best view of Labadee as you zoom over the beaches of Labadee.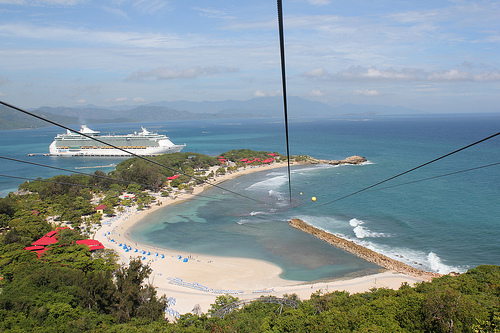 Photo by kbmay1
Custom-made safari vehicles bring you 500 feet above the beach to the zip line that will take you over Labadee at a speed of up 50 50 miles per hour and end up at Dragon's Breath Rock.
I've always wanted to try this but the primary reason I have not is because this excursion costs $96.  
Most people I've talked to that have tried it have said it was not worth the money but they did think it was something you had to try once.
Pros: Always wanted to try this: Unparalleled views of Labadee
​Cons: Expensive
Labadee Parasailing Experience
As I was thinking about that zip line tour, I ran across the parasailing option that offers a similar experience form slightly less money.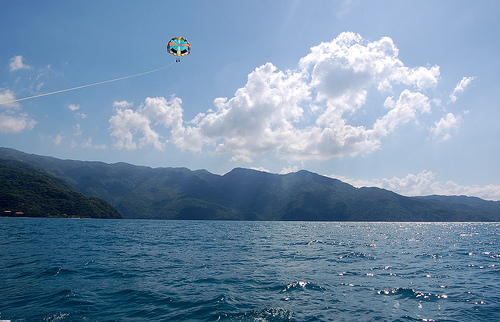 Photo by Leandro Rizzi dos Santos
The Labadee Parasailing Experience will bring you 400 feet above the ocean to enjoy a bird's eye view of Labadee and the surrounding area.
Unlike the zip line, there's a wider angle of Labadee to enjoy and you also get a speed boat ride in addition to just parasailing.
My primary concern is because of a bad parasailing experience I had once.  I have gone parasailing twice and one time the seas were rather rough and the speed boat was rocking quite a bit and a few people got sea sick to the point of "feeding the fishes".  It was miserable despite the fun time in the air.
Pros: Slightly cheaper than zip line
Cons: Bad prior experience; Parasailing happens away from Labadee
Labadee Cataway at Malfini
In an effort to consider something much different, I ran across another option I had no idea existed with a beach break at a remote beach near Labadee.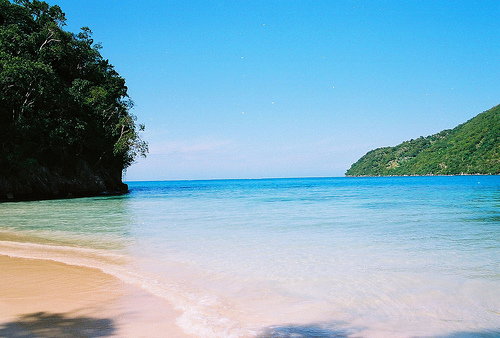 Photo by Colleen Travis
Royal Caribbean offers a quiet getaway at Malfini, which evidently far enough from Labadee to offer a private beach experience but close enough to be convenient.
Royal Caribbean describes it as a "secret paradise" with white sands in a remote cove.  There's floating mats available and "Malfini Punch" to try.
This sounds interesting but I keep wondering why I would go to a beach when Labadee is a great beach and free.  
Pros: Remote beach experience away from the crowds
Cons: Extra cost to do something I can do at Labadee for nothing extra
The Decision
After considering my options, I've ended up choosing: Dragon's Tail Coaster & Dragon's Breath Flight Line Tour.
Despite my earlier assertion that I wanted to try new things, I also wanted to have time to actually sit on Labadee and have a Labadoozie (or two) and enjoy the beach in addition to what I picked.  
I feel like the zip line and coaster are good choices of things to try at least once and are also of greatest interest to blog readers, who may be interested in trying the same thing.
If money wasn't a concern, I would probably include the water slide too but I just can't justify the cost for one ride.  
I think my choices will give me a taste of something different while still leaving me plenty of time to enjoy the wonderful beaches Labadee offers.