99 days of Quantum: Music Hall
In:
We're counting down the days until Royal Caribbean's next cruise ship debuts, Quantum of the Seas, with our 99 days of Quantum countdown.  Each day we will post something about this amazing new ship.
Music Hall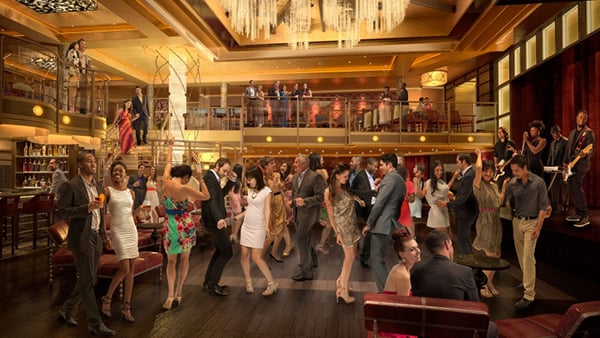 An under-appreciated new feature coming to Quantum of the Seas has to be the Music Hall.  It's a dedicated venue for passengers to enjoy intimate and exclusive access to live performances.
Royal Caribbean describes the design as "rebellious and edgy" and when there isn't a live act performing, there will be dance classes and improv workshops.  
At night, the Music Hall will live up to its name with bands, musicians and DJs playing music for all to enjoy.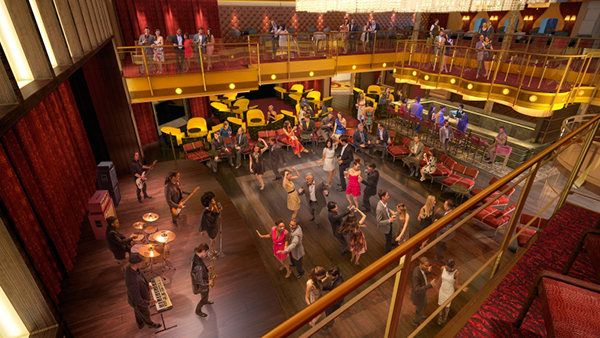 Music Hall will span two decks (decks 3 and 4) and was inspired by "the spirit of rock and roll". There's rich tones and lots of leather and mirrors.
Music Hall is purposely designed for unobstructed views of a raised main stage, creating optimal views from any area, including the balconies on a mezzanine level.
The second level will feature a Royal Caribbean signature, multiple self-leveling billiard tables.
Music Hall feels like the evolution of the live music venues we've come to enjoy on many Royal Caribbean ships and bring the best elements of each to create a really fun dedicated venue for those that want to enjoy great live music.
Stay tuned for tomorrow's post as we celebrate 99 days of Quantum!