An inside look behind the making of Royal Caribbean's virtual balcony
In:
Of all the new and intriguing innovations coming to Royal Caribbean's newest cruise ship, Quantum of the Seas, few have captured the public's imagination quite like the virtual balcony.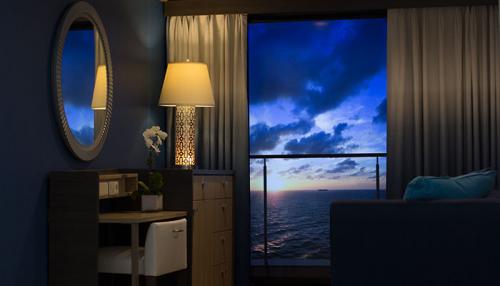 Photo by Control Group
These 80-inch LED screens offer cruisers in select inside staterooms the opportunity to get views around the cruise ship in real-time displayed in their cabin.  We had a chance to talk with the technical lead of the virtual balcony, Tim Mattison from Control Group, and dive into the details of how he and his team created these new virtual windows to the sea.
From the project's creation, Mattison and his team had a good idea of how they wanted to tackle the project but there definitely some technical hurdles to overcome, "We had a pretty good idea of what we wanted to accomplish. There were a few features that were trickier to implement than we thought, but I think the bulk of it was tying together all the different systems it talks to."
So what's so difficult about getting a video feed from one end of the ship and displaying it somewhere else on the ship?  The answer is far more complex than you might think.  Mattison said it took a team of network engineers and software engineers just to get it working in a prototype environment, "there's so much behind the scenes to make it happen."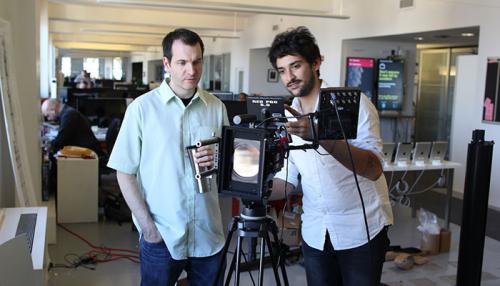 Tim Mattison and team member working on RED camera. Photo by Control Group
Mattison was particularly proud of the two RED Epic cinematic cameras mounted at the stem and stern of the ship to deliver the video to the virtual balcony displays.
"We had a couple of requirements for a camera and we spent a very, very long time finding a camera that met them.  RED was the only company that would warranty the camera and said it would run indefinitely.  According to RED, we have the record for the longest running RED camera.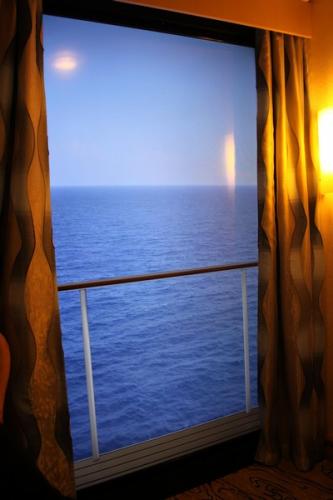 We approached plenty of them [other manufacturers] and all of them said our camera will not do this and if we find out that you're doing this, we will not honor your warranty.  RED said please do this, this is what we want you to do with our camera.
The RED camera has fantastic dynamic range and it supports incredible resolutions and the sensor is huge.  This camera supports up to 240 frames per second in certain resolutions."
Interestingly the camera itself supports 4k resolution, which is a generic term for ultra high definition television (UHDTV), and while the output in the virtual balcony is currently downsampled to the virtual balcony's native resolution. In fact, in the future with a few upgrades, the virtual balcony could upgrade to deliver a true 4k experience without major hurdles thanks largely to the RED cameras.
One of the questions our readers wanted to ask Mattison was what happens at night and how good the picture is during the evening.  
Mattison replied simply, "You see basically what you see when you look out the [real] balcony.   But if you have moonlight coming off the waves, you see that.  They wanted it to be as authentic as possible; if you were to look out your balcony and see nothing, that's what you're going to see."
Another good question from our readers was why the virtual balcony shows a view forward or aft but not sideways, like a real balcony does.
Mattison responded, "There was no place to place a port or starboard screen.  If you have a forward screen, you want have it face forward. There were some concerns about sea sickness and things like that. There may be port and starboard views eventually, but that's about all I can say."
From my talk with Mattison and others from Control Group, I got the subtle notion that what we know about virtual balconies today will not be the final version and that more virtual balcony features will be announced in the future.
We also wanted to know if guests can change the view between forward and aft currently.  Mattison said, "No, it was one of the things that was under consideration. We wanted to keep the remote control as simple as possible. And again, with wanting to have an authentic view they wanted to make sure that people couldn't change the view. At least for now.  If you had a real balcony, you can't just say I'd want to see the balcony on the other side."
Mattison did indicate there were no limits to what the technology could do and if Royal Caribbean wanted to allow guests to change the view or offer other views, it could be done, "If people are interested in it, it's totally possible.  There are no limits to the technology that would stop us from doing that.  So if you want it, request it."