Navigator of the Seas Live Blog - Day 7 - Sea Day
In:
Today was our last day and I wish I had a lot to report to you but I spent most of the day either sleeping, eating or lounging.  There's nothing wrong any of that but I think the events of the last 7+ days finally caught up with me.
We slept in, or as parents with young children call it, sleeping until our kid woke us up.  So about 9am we all got up and started getting ready and made it up to the Windjammer closer to 10am.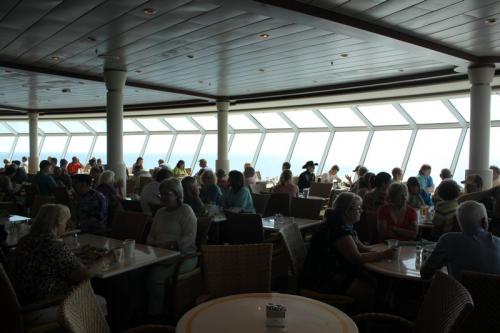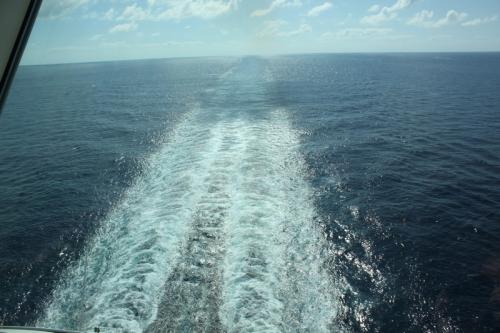 With such a late start, it didn't make sense to bring my daughter to Adventure Ocean because today the morning session ended at 11am.  So we roamed the ship, taking a walk on deck 4, the Royal Promenade and the pool deck.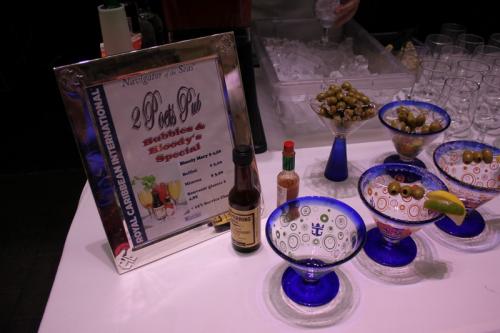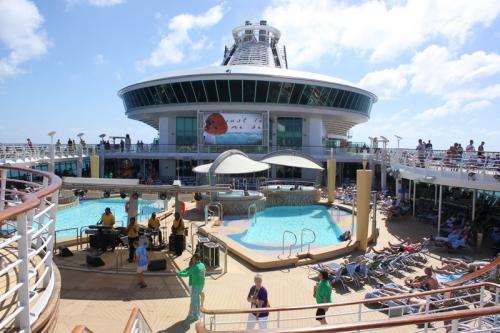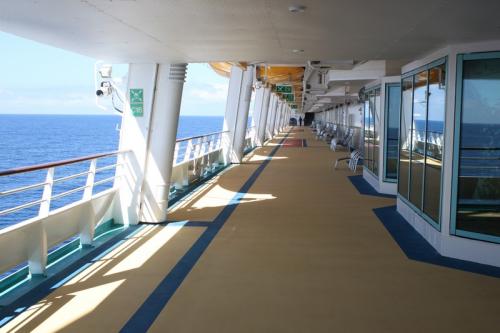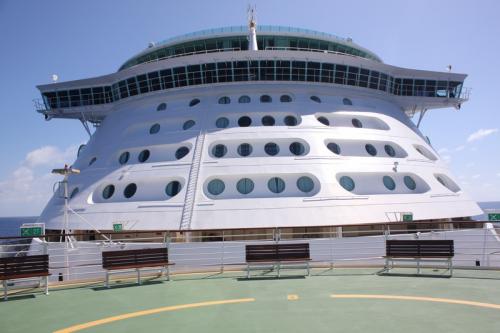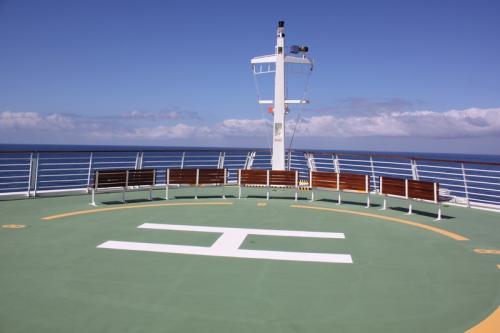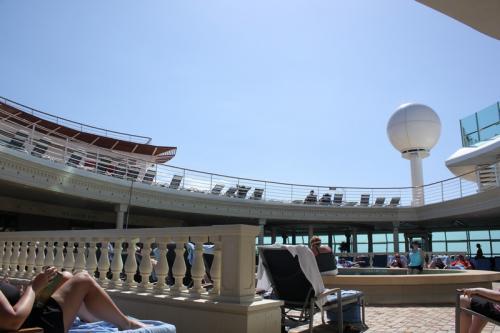 Lunch came around again so we had a quick bite to eat in the Windjammer, which was actually my first time this cruise eating lunch in the Windjammer.  That is really odd for me.
After lunch, my daughter took her nap so I went up to the pool deck to lounge.  It was one of those weather days where in the shade it was cold but in the sun it was hot.  So I managed to snag a chair in the Solarium that had my legs in the sun and put a towel over my legs so I could warm up without getting sunburned.
I took my first of many naps here and eventually woke up to go downstairs to gather the troops.  My daughter was still asleep so I took the opportunity to take yet another nap.
When my daughter woke up, I woke up too and took her to Adventure Ocean for the afternoon session.  Then my wife and I took a short walk and then decided to start packing now rather than leaving it to the end. Packing the night before your cruise ends is the second worst feeling ever (with the last day and leaving the ship being the worst feeling). 
Since I really didn't do much to report on, I wanted to share my overall thoughts of the cruise and some observations that may benefit others looking to take this cruise eventually and/or a cruise out of Galveston.
It's an older crowd. Much older crowd.
On our cruise, the vast majority of cruisers were people at least 50 years old or older.  And emphasis on older.  
If you're younger, that may or may not be a problem.  I'm not someone who needs to make dozens of new friends on a cruise to have a good time.  And there are advantages of cruising with older people, namely older people don't care nearly as much about getting a chair on the pool deck, so chair hog issues weren't much of an issue.
The downside to cruising with older people is the elevator situation is worse than usual.  I don't judge people if they take the elevator instead of the stairs but it just felt like the elevators were more crowded than usual.
We were also cruising during a time of year when kids are in school so not a lot of school-age children here, which may have contributed to the older crowd.
Hope you like country western music
By far, a majority of the live music and even recorded music played across the ship was country western music.  
I'm talking Glen Campbell, Alan Jackson and the sort of old-timey country western songs.  Heck, even in the bars in ports they were playing country western because the vendors knew the people on the ship want that and not Miley Cyrus.
At first I didn't really mind the music, but about half way through the cruise I really wanted something different.  Events like "Name this tune", "dance it if you know it" and others were predominately country western.  The only place that did not play country western was the Cosmopolitan Club on Deck 14.  
Forward cabins: the good and bad
As you may know, we had booked cabin 6500, a family oceanview stateroom all the way forward.  Looking back on it there was good and bad to it.
The good is the amount of space we got.  It's insane how much space we had in the stateroom and my daughter having her own room was very nice.  To get a similar amount of space in a different kind of cabin would have required a suite of some sort.
The bad is the motion.  I can't tell you how many times I'd be somewhere on the ship and feel little to no movement only to get back to the room and feel like I'm on a turbulent airplane ride.  My wife didn't feel the effect nearly as much as I did and thinks I'm too sensitive.
One thing we can both agree with about the room is the random noise that occurs. The room is close to the crew relaxation area near the bow of the ship and you will often hear a loud bang or clang sound.  It's enough to wake you up at odd hours of the night.  I'm not sure it's that big a deal but worth noting.
The renovations make a big difference
There aren't many ships left in Royal Caribbean's fleet that aren't refurbished but I cannot imagine cruising on any of the "old" ones now.  The upgrades to Navigator are unbelievable.  It's made the ship so much better and appealing.
The new paint, furniture, restaurants and more all make this ship feel like it's brand new (again). Regardless of if it's Navigator or some other revitalized Royal Caribbean ship, do yourself a favor and stick with the upgraded ships for now.
The internet is still ship internet
The internet WiFi connection is ship-wide, which is nice, and there are two unlimited internet plans, which is great but the speeds are still the kind of speeds you expect to get at sea.
I'm not 100% certain if the 11ac network upgrades we posted about previously have been implemented but as it is today, the ship internet works in bursts, with nothing for a second or two and then a lot coming in, and then more waiting and then another burst of download.
For using the internet for Facebook or Twitter or Instagram, it's great.  I can post photos, update timelines and other common social media functions quickly. But booting up the laptop and going surfing still has noticable delays.  
Still, if I were going back on Navigator fo the Seas next week I would buy the unlimited plan again for the ability to use it whenever I want and stay connected with friends and family.  I mean, how else can I send them photos of the pool deck while they are stuck in snow?
Everyone is from Texas!
Or Oklahoma, Lousiana or Kansas.  But when you tell someone you're from New York (or anywhere north of the Mason-Dixon line) they look at you like you are crazy for having booked this cruise.
Most often they ask why we booked the cruise.  It's fine and all but again it feeds into the first two observations I made of an older cruising age and the country western music thing.
Fog!
You may remember from earlier this cruise when we were delayed about 7-8 hours because of fog getting onboard.  If you are cruising out of Galveston in the winter, keep in mind it happens. 
Unfortunately fog is out of your hands, so my advice is fly in a day before and enjoy what Galveston has to offer if you are delayed.
Adventure Ocean is wonderful
My daughter had a blast there and every time we picked her up she was having the time of your life and often cried when we told her she had to leave.  To me, there is no more ringing endorsement.
As a parent, it was great having 5-6 hours a day to ourselves and it made a huge difference for me and my wife's ability to have as good a time as we had. I would not hesitate to recommend bringing your kids to Adventure Ocean, especially on the revitalized ships.
I love the R-Bar
Maybe it's the retro-cool furniture or maybe it's fact it's new to me, but the R-Bar quikly became my favorite place to grab a drink onboard Navigator of the Seas.
What's especially neat about R-Bar is the bartending staff really know their stuff.  Forget the drink menu, just tell them sort of liquor or juice you like and they will make up a drink based on that.  I have yet to see this fail.
I still love cruising with Royal Caribbean
'Nuff said.