Quantum of the Seas cruise port construction looks to be back on track
In:
Last week plans for construction to begin on the renovations of Cape Liberty's cruise terminal were halted after the construction plans impacted a September 11th memorial.  The renovation plans are back on track now after the Port Authority has come up with a plan for ensuring the 9/11 memorial is not destroyed.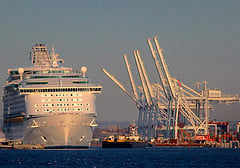 NJ.com is reporting the small group of memorial pavers that encircle the 9/11 Teardrop Memorial at the south end of the Peninsula at Bayonne Harbor will be temporarily removed when repair work at the site begins.
The renovation work on the terminal is necessary to allow the port to accomodate Royal Caribbean's newest cruise ship Quantum of the Seas for her November 2014 arrival.
"The start of the construction is contingent on the city of Bayonne's approval," said Port Authority spokesman, Steve Coleman.
Coleman estimates the pavers will be out of the 9/11 memorial ground for roughly three to five months.
"These pavers will be restored to their original locations when the work is finished," said Coleman.