Previewing Royal Caribbean's virtual balconies
In:
When Royal Caribbean's Navigator of the Seas emerges from dry dock next week, among the new changes onboard the ship will be virtual balcony staterooms that feature an 80 inch high definition LCD screen in select inside staterooms.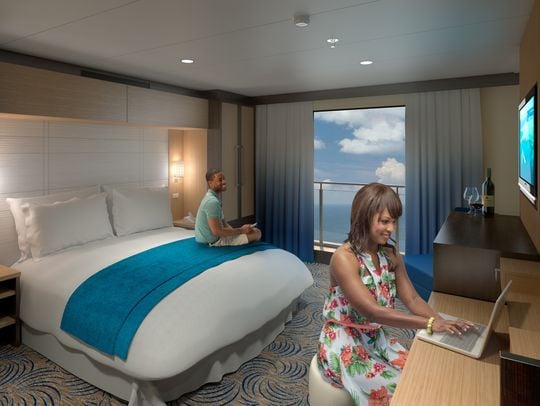 Fox News interviewed Ronnie Farzad, Royal Caribbean's head of entertainment technology, and he says the new screens stretch from nearly floor to ceiling and wall to wall, complete with the sound of the seas in real-time from the camera location. Royal Caribbean is also included a banister for a feeling of safety.
Why a banister?  Well, Royal Caribbean told Fox News that they tested a simulated virtual balcony with 30 to 40 people at Royal Caribbean headquarters, and many of the testers complained that an open ocean view is a little scary because there was nothing to keep passengers from "falling in," especially if the ship is moving in high seas, Farzad said.  
While Navigator of the Seas only has about 80 staterooms with virtual balconies, there will be a virtual balcony in every interior cabin on Quantum of the Seas. There will even be smaller virtual balconies in the studio staterooms that accomodate solo cruisers on Quamtum of the Seas.
Charlie Miller of Control Systems, the concept design company behind the virtual balconies, spoke to Fox News about several of the challenges in creating an authentic feel to Royal Caribbean's virtual balconies. 
Another challenge was making it all look the way designers envisioned, as Fox News reports, "Designers wanted to create virtual banisters and even balusters, the vertical poles that hold the banisters in place. But the banister had to appear to be outside the window, like on a real balcony. And that created a whole new set of visual challenges, because the look of a real banister changes all the time as the sun and the ship change directions. The answer was to incorporate sun movement charts and powerful GPS data to add "real" shadows and highlights to the virtual banisters. At the same time, they decided not to put virtual glass between the balusters."