10 ways to save money when booking a Royal Caribbean cruise
In:
Booking a Royal Caribbean cruise, like any vacation, is going to cost you money and it's safe to say if you can save some money on your cruise, then it's something worth considering.  After all, not everyone on the same Royal Caribbean cruise paid the same amount.  
Cruise fares vary considerably and there are ways to keep the cost of your next Royal Caribbean cruise low and save some of your money for other things (like spending it onboard your cruise).
1. Book Early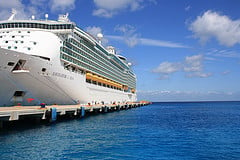 If you know your vacation plans well in advance, booking early is one of the best ways to save money on a Royal Caribbean cruise.  As more and more people book a cruise, inventory drops and prices go up.  
Generally speaking, booking early is the safest and most reliable way to save on the price of your cruise. Booking more than a year in advance will garner you the lowest rates for quite some time and get you on the cruise you specifically want.  Heck, it's likely to even get you the best prices on even the most sought after staterooms.
Booking early also affords you the ability to track prices after you book because you can always apply any cheaper rates to your cruise up until final payment. 
2. Book at the last minute
This tip is clearly the opposite of our first tip but when all else fails, Royal Caribbean will offer unfilled space on their ships for a significant discount.  Some cruise fares drop to really absurd prices that make living at home more expensive. It may be hard to pass up these Royal Caribbean deals.
If you have the means to get to the port in short notice without incurring high travel costs, last minute cruises can be a great choice.  Granted, the selection of itineraries and/or staterooms may be limited, sometimes these are the best priced cruises you will ever go on.
Last minute cruises are usually past the final payment date, so booking the cruise will require full payment up front but the deals that are out there can be worth it.
3. Research your discounts
Royal Caribbean does offer a number of discounts to different groups of people and it's worth researching which you qualify for.  
Regional and military discounts are offered from time to time to the general public while past Royal Caribbean cruises can get discounts based on their level of membership in the Crown and Anchor Society.
Crown and Anchor Society offers Savings Certificates that are available by logging into the Royal Caribbean site and seeing which certificates are currently available.  Select sailings will receive anywhere from $25 to hundreds of dollars off their cruise, which is usually stackable with other discounts.
4. Consider different room(s)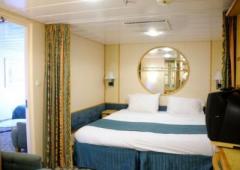 Sometimes booking two staterooms instead of one can actually save you money.  Larger families or those seeking more space may find two inside cabins cheaper than a larger room/suite.  This is especially true on older Royal Caribbean ships, where large balconies and suites are in less abundance.
Likewise, family staterooms and some suites may become available to the general public if unbooked and can offer lots of space for less cost.  It's important to consider all cabin categories before deciding which is the best choice.
5. Consider your time of year
Supply and demand dominates Royal Caribbean pricing strategy and so cruises during Christmas, Spring Break and the Summer can much more expensive than other times of the year.
If you have the flexibility to go when kids are still in school, you can save lots of money.  Likewise, cruising during hurricane season can net you savings along with immediately after or before major holidays when most people do not have vacation time.
The difference in price between one week and the next can be tremendous, so if you can swing it, consider alternative weeks as a way to reduce the cruise fare.  Combining this tip with our first tip of booking early can save you even more.
6. Older ships are a great value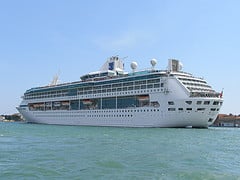 Royal Caribbean loves to advertise their newest cruise ships but the older class of ships are still great options for a cruise vacation and are prices much less on average.
Royal Caribbean has been working on refurbishing every one of its older cruise ships with amenities found first on the Oasis-class and Vision and Radiance class ships now offer modern upgrades and options that have breathed new life into these ships.
Even with the upgrades, older Royal Caribbean ships will have more competitive prices and are often located in smaller cruise markets that may mean a shorter trip to the port for you.  
And did we mention the older ships are still a lot of fun?  Radiance class ships are beautiful with their glass protected views of the ocean and Vision class ships pack a lot of fun into each vessel. 
7. Look for booking incentives
These days the fare you pay for your Royal Caribbean cruise may not change all that much but what you get for booking can make the difference between an average priced cruise and a cheap cruise.
Booking incentives like onboard credit, free gratuities and complimentary unlimited drink packages can save you hundreds of dollars and it's important to see what offers are out there.  
Travel agents are often the best people to assist in finding these booking incentive deals and we've become fans of using a site called CruiseCompete, which pits travel agents against each other to offer you the best deal.  
These days, most cruises can offer you at least some sort of booking incentive and every dollar saved counts!
8. Use your credit card rewards
Credit card rewards programs have never been more competitive and if you use credit cards to pay for every day purchases, you can rack up savings for your next Royal Caribbean cruise quickly. 
Royal Caribbean has partnered with Bank of America to offer a credit card that allows everyone to earn points towards onboard credits and even a free cruise.
Other credit cards also offer cash rewards that can be used towards your Royal Caribbean cruise.  By saving your points, you can cash out your reward points close to your cruise date to help reduce the cost of your cruise fare or help pay for things on your cruise.
9. Book your next Royal Caribbean cruise onboard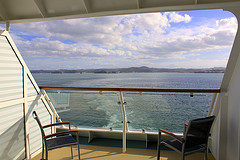 One thing I always do on my Royal Caribbean cruise is make a stop at the Loyalty Ambassador's desk and book my next cruise.
Royal Caribbean offers two types of bookings that can really save you money.  First is a future cruise booking, which allows you to select a cruise itinerary and reserve your spot.  If you know which ship and when you want to cruise next, this can be a great way to get your next vacation set up.
If you aren't sure when you want to cruise next but know that you do want to cruise with Royal Caribbean again, NextCruise Certificates require just $100 deposit and will give you $100 in onboard credit towards your next cruise booking.  NextCruise Certificates never expire and is something I've come to find to be among the best deals for booking my next Royal Caribbean cruise.
10. Use a travel agent
Travel agents have their fingers on the pulse of what's happening in the world of Royal Caribbean offers.  They get word of new offers first and because it's their job to book cruises all day long, they know the system in an out.
I've used a travel agent to book every one of my Royal Caribbean cruises and I can't tell you how much time they have saved me as well as money.  A good Royal Caribbean travel agent can be your partner in the planning process as well as saving you money.
I will admit not all travel agents are the same, and some are definitely better than others, so it's important to ask questions of them.  The good ones will be able to find the best deals for you and track any new deals that come out that can lower your cruise fare.
Our sponsor travel agency, and one I recommend, is MEI Travel.