Royal Caribbean testing 11ac network upgrade for its ship Wi-Fi
In:
Royal Caribbean is testing a new Wi-Fi technology known as 802.11ac to optimize their Wi-Fi connectivity for the new wave in mobile data usage onboard its ships.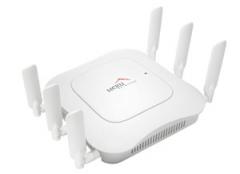 Network World is reporting that Royal Caribbean is testing Meru Networks' just-released 11ac product, the AP 832.
"It's a two-radio product, each radio capable of running in either 2.4 or 5Hz bands, supporting three spatial streams, a maximum data rate of 1.3Gbps, and the ability to run all three streams and support 80-MHz wide channels on both radios over existing 802.3af Power-over-Ethernet."
Tests of the new networking gear have been conducted at Royal Caribbean's "ship lab" in Florida, which mimics conditions on board a ship, involved four Meru AP832 access points with 11ac and 11n clients. The results of the tests found up to 782 Mbps receiving and 634Mbps sending.  That is a signifigant upgrade compared to the company's existing 11n Wi-Fi target of 200Mbps.
"We were able to see a 40 percent improvement with the new [11ac] chipset," says Greg Martin, IT director for Royal Caribbean.
The potential benefit of this technology for Royal Caribbean is doing away with Ethernet cabling for numerous VoIP phones, digital signage, kiosks and similar endpoints.  In addition, it will reduce the cabling needs aboard the cruise ships, which is expensive.
The next test comes in December when Royal Caribbean will use the 11ac products in a pilot program at its Oregon call center. A limited test is also planned for Navigator of the Seas in January.
Royal Caribbean plans to deploy 11ac as the standard in all new ships, and phase in 11ac upgrades to the existing fleet. The next new ship, Quantum of the Seas, likely will be the first of the company's ships to get a stem-to-stern 11ac wireless LAN.
Adding Wi-Fi to Royal Caribbean's ships has been a boon financially, with more guests buying internet access onboard their ship and that has translated well to the company's bottom line in recent quarters.