Friday Photos
In:
It's Friday and that means we are sharing great Royal Caribbean photos our readers have sent in and once again, we have a fantastic batch to share with everyone.  We want your photos too, so send us your best Royal Caribbean photos so we can share it with the world.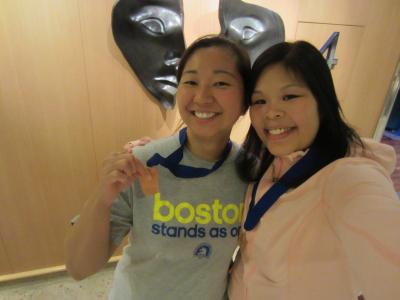 The first photo this week is from Angela Lee, who has a story to share with this photo.  
My friend and I are not new to cruising. If anything we been on a handful of cruises and as much as we like having fun on the islands we visit we have even more fun on the ship as well. We make it a point to attend all the trivia games the ship offers as well as others they have. Time after time, we feel like such losers when we attend these games.
However, this year on the Jewel of the Seas, we are finally winners. This picture is us placing 3rd place when we played in The Quest. It was our proud moment. Also, we did randomly win other prizes when we played all the trivia games offered on Jewel of the Seas. All in all, we are dorks and love the trivia and live to play all these games on any Royal Caribbean ship. As much as it is fun to win, just the journey to get there is even more fun.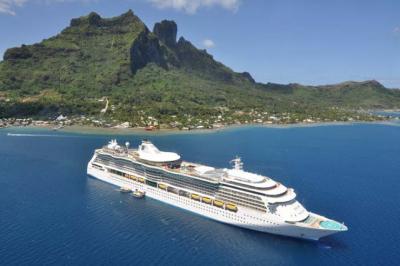 Next we have a photo from Giulio Saggin of Radiance of the Seas that was taken from a helicopter ride!  Here's Giulio's description:
Rather than embark on a short cruise to see if we liked cruising, we jumped into the deep end and spent 17 nights cruising from Honolulu to Sydney in Sept/Oct 2011. On the way we stopped off at, among
other places, Bora Bora. We decided to go on a helicopter ride and this photo of Radiance of the Seas at Bora Bora was taken on that helicopter ride.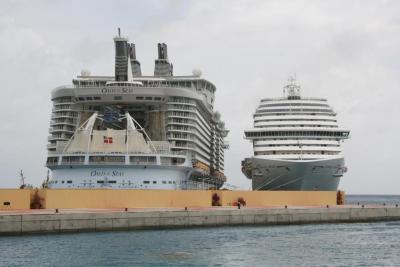 Gene M. Hagen sent us this photo of Oasis of the Seas in St. Maarten. Gene just couldn't help comparing Royal Caribbean's largest cruise ship to Carnival Cruise Line's largest ship (at the time), the Carnival Dream. Nothing wrong with a little gloating!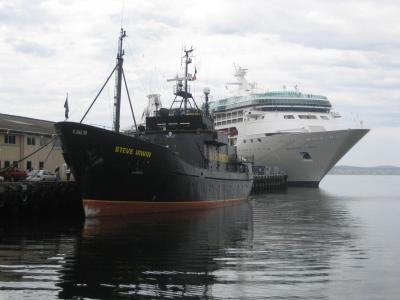 Next is a photo from Maureen of Rhapsody of the Seas parked behind the Sea Shepherd 'Steve Irwin' in Hobart Tasmania.  She said she got to go onboard the Shepherd and the accommodation was basic to say the least, compared to Rhapsody!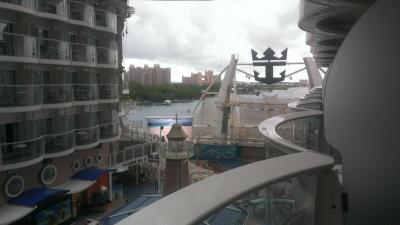 Veteran Friday Photos reader Harry Yerikyan sent this photo from his cruise on Allure of the Seas last month.  I'm sure he misses being onboard and seeing this photo makes me yearn to be back and I wasn't even on his cruise!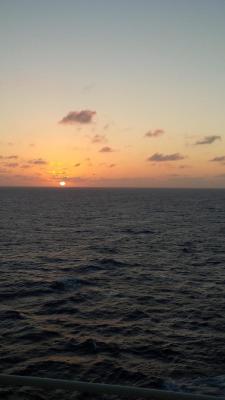 Last is a photo from Kris of an absolutely beautiful sunset as seen on Freedom of the Seas this past February.  Lovely!
Thank you to everyone who sent in their photos this week. Have a great weekend and be sure to send us your photos so we can post them next week by using this form.