Port expansion for Quantum of the Seas could spur tourism boom
In:
Last week officials from Cape Liberty in Bayonne, New Jersey approved a $70 million plan to expand the port to accommodate Royal Caribbean's Quantum of the Seas and this new deal has some thinking that this could be the catalyst for the area becoming a tourist hub.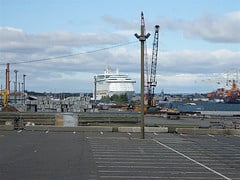 With the Royal Caribbean deal in place, the city of Bayonne may be on the verge of inking an agreement for the development of a new hotel and possible complex to accommodate incoming and outgoing passengers.
Bayonne officials say they have been working towards getting a hotel development near the cruise port for months, but negotiations hinged on moves by the Port Authority.
"The new Royal Caribbean Cruise Terminal will provide the people of New Jersey and New York with the world-class travel experience they deserve," said Port Authority Deputy Executive Director Bill Baroni. "We welcome the significant investment Royal Caribbean is making in our region and look forward to welcoming the Quantum of the Seas to her new home in our port."
Construction is scheduled to begin this summer and be completed by October 2014.