Norovirus outbreak on Vision of the Seas
In:
Royal Caribbean's Vision of the Seas returned to Port Everglades, Florida today after 105 guests and 3 crew members contracted norovirus on the cruise ship.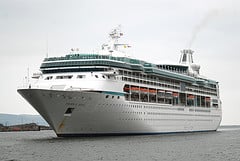 "Vision of the Seas experienced an elevated number of persons with a gastrointestinal illness on its last sailing," Royal Caribbean International said in a statement. 
Royal Caribbean crew members gave out over-the-counter medication to those affected by the virus.
An official statement by Royal Caribbean discussed what steps the cruise line as taken to prevent the problem in the future, "At Royal Caribbean International we have high health standards for all our guests and crew.  During the sailing, we conduct enhanced cleaning onboard the ship, to help prevent the spread of the illness."
When the Vision of the Seas docked in Port Everglades, the company said it conducted an extensive sanitizing onboard the ship and within the cruise terminal, to help prevent any illness from affecting the subsequent sailing.
"Guests received a letter at boarding that asks if they have experienced any gastrointestinal symptoms within the last three days," Royal Caribbean officials said.