Royal Caribbean reports better than expected third quarter results
In:
Ahead of its conference call with investors, Royal Caribbean announced better than expected financial results for the third fiscal quarter and increased its earnings outlook for the full year 2012.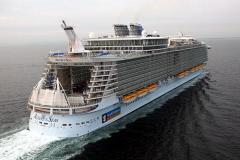 Royal Caribbean reported third quarter net income of $367.8 million, or $1.68 per share, versus income of $399.0 million, or $1.82 per share, in the third quarter of 2011.
Helping Royal Caribbean's financials for the quarter were stronger than expected close-in bookings, including Europe.  NCC excluding fuel were also better than anticipated and increased 2.0% on a Constant-Currency basis (declined 0.2% As-Reported).
Royal Caribbean Richard Fain commented on the news, "The strong third quarter certainly validates our confidence in our business model.Strong close-in demand and our focus on costs drove substantially better results than expected. I am especially gratified that we are still seeing price increases in a year marked by so many external pressures."
Royal Caribbean also increased its guidance for full year earnings per share by $0.15 to a range of $1.85 to $1.95. This increase has been mainly driven by stronger than anticipated revenue (+$0.06 per share) and expense reduction (+$0.06 per share). The remaining $0.03 per share improvement is principally due to currency benefits net of oil price increases.