Two crew members from Allure of the Seas arrested for smuggling cocaine
In:
Two crew members from Royal Caribbean's Allure of the Seas were arrested in Port Everglades, Florida this past Sunday for allegedly smuggling cocaine.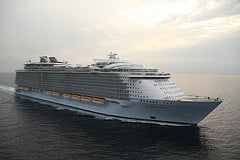 The men were stopped during a routine inspection of Allure of the Seas as they were attempting to disembark.  Allure of the Seas was returning from a Western Caribbean cruise to Haiti, Jamaica and Mexico.
Inspectors noticed something during an x-ray scan in one of the men's backpack.   Both of the men removed various electronics and a wallet from the backpack and then told security agents the backpack did not belong to them, according to the investigative report.
Royal Caribbean's security personnel contacted the Broward Sheriff's Office deputies and Customs and Border Protection to investigate. A police dog alerted to something in the backpack which was then field-tested. The substance inside tested positive for cocaine and both men were arrested.  More than one kilogram of cocaine was found, which was trafficked from Jamaica.
In its statement, Royal Caribbean said it maintains a strict zero-tolerance policy regarding illegal drugs on its ships. "We take various steps to prevent the transport of illegal narcotics, including working closely with law enforcement in all of our ports of call."