Royal Caribbean will use CA Technologies to manage IT on cruise ships
In:
Royal Caribbean has struck a deal to have CA Technologies provide integrated and automated IT management solutions that aim to improve the guest experience aboard all of its cruise ships.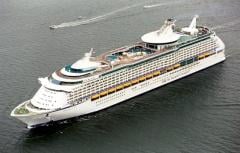 The deal will simplify IT management both on shore and onboard the cruise ships.  Royal Caribbean will use a range of CA Technologies solutions, including application performance management, infrastructure management, automation, and project and portfolio management.
Royal Caribbean is planning a massive IT upgrade program to modernize its legacy applications that will take place over the next 12 to 18 months.
Royal Caribbean Chief Information Officer Bill Martin commented on the deal, ""Our investment in technology has increased dramatically. Thanks to CA Technologies Business Service Innovation approach, we have transitioned our focus from maintaining IT systems to delivering new, innovative guest services with speed and agility. CA Technologies has enabled us to transform our IT organization and address the high expectations guests have as a result of the trend towards consumerization of IT. Guests want wireless access to the Internet from their smartphones, tablets, laptops and game consoles the second they board the ship to access a range of services; it's imperative that we provide them the best possible experience with those services."
CA Application Performance Management helps Royal Caribbean ensure quality of service and quality of experience for its Web sites. CA APM enables the cruise company to identify and resolve potential problems before they cause downtime and disruption for guests.
Royal Caribbean uses CA Spectrum(R) and CA Virtual Assurance for Infrastructure Managers to manage its on-board network and data center devices. The integrated solution, used on SL class and OA class ships, enables Royal Caribbean to monitor its infrastructure across multiple platforms via user-friendly dashboards that help the organization drill down to identify and fix the root cause of a problem before it impacts guests.
Royal Caribbean also uses CA Client Automation to track networked assets and deploy software upgrades remotely to help minimize the need for IT staff to travel around the ship and ensure devices remain continuously available.