Sydney, Australia expecting another record season for cruise ships
In:
Royal Caribbean is doing its part to make another record cruise season for Sydney, Australia.  The city expects 265 visits before the cruise season ends in April 2013.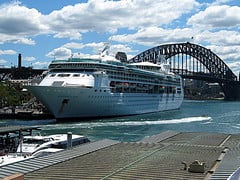 Many of the passengers that will help set that record will be traveling aboard Radiance of the Seas, including the 2100 people it brought to the city yesterday after a 17-night trip from Hawaii.
Royal Caribbean managing director of Royal Caribbean Cruise Australia expects up to 750,000 Australians to take a cruise in 2012.  That is a 34% increase from 2010 when just 620,000 Australians went on a cruise.  
''The stronger economy is providing a better return, and the better return is attracting a better quality of ship."
That's great news for Royal Caribbean and the cruise industry, considering there just a 4% increase in American cruises and 5% among British cruisers over the same period of time.
Royal Caribbean's Voyager of the Seas arrives in Sydney on November 22 and will bring even more passengers than Radiance.