Royal Caribbean cruise ship collides with cable
In:
Royal Caribbean's Jewel of the Seas hit a cable while sailing into the port of Klaksvik in the Faroe Islands of Denmark.  The accident caused a crew member to be injured when falling debris hit him while he was outside.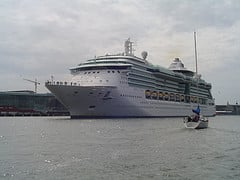 The incident occurred September 6 at 8am local time according to a Royal Caribbean statement when Jewel of the Seas came "in contact with a cable hat extends between Bordoy and Eysturoy Islands."
The accident also resulted in damage to the mast and some equipment on the mast.  Royal Caribbean spokeswoman Cynthia Martinez emphasized that the accident has no effect on the seaworthiness of the ship. Moreover, Jewel of the Seas has moved to its next port of call in Reykjavik, Iceland.
Martinez added that Royal Caribbean is working closely with the local authorities to determine why the collision occurred, "All the navigational tools and charts we use to plan our voyage, including information we obtained from the local port authorities and harbor master in advance of our arrival, indicated we had enough clearance to pass under the cable."