Royal Caribbean proudly supporting National Cruise Week in Australia
In:
Royal Caribbean is supporting Australia's first ever National Cruise Week promotion.  To celebrate, Royal Caribbean is offering special cruise deals to anyone in Australia that books during the cruise week promotion.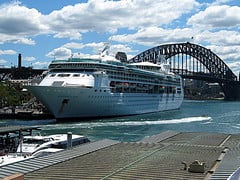 Adam Armstrong, Royal Caribbean commercial director, is excited to see the cruise industry being promoted during the week, "Cruising is rapidly expanding part of the Australian tourism industry and we welcome this new national campaign to promote the sector. We're delighted to be involved with the International Cruise Council Australasia's campaign."
"Our deals all include on board credits – of up to $500 in some cases," he continued. "Our guests will be able to use the credits to take a shore excursion, buy something special in our boutiques or treat themselves to a spa treatment – all on us."
Royal Caribbean is offering some special deals, such as $100 onboard credit on all cruises out of Australia that are five nights or longer that are made during National Cruise Week.