Royal Caribbean supports new Gold Coast cruise terminal
In:
Veteran developer Bob Ell has a plan to build a new $200 million cruise ship terminal for the Gold Coast of Australia  and Royal Caribbean supports the idea.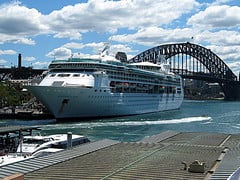 The new terminal would include three cruise ship terminal berths, three hotels, a casino, a water park, an underwater observatory, a new North Kirra surf club and a super-yacht marina.
Royal Caribbean managing director for Australia, Gavin Smith, indicated that Royal Caribbean may back the new venture.
"We would investigate the potential for capital involvement in any project," Smith said.
Royal Caribbean was excited by the business community's interest in a new cruise terminal in the area, ""We will certainly work with them and assist with providing any information they require."
"The challenge for the Gold Coast is the marine navigation of the area and building a facility that could be reliably accessed by visiting cruise ships."