New gas scrubber on Liberty of the Seas gets DNV approval
In:
A Green Tech Marine GTM R15 compact exhaust gas scrubber recently installed aboard Royal Caribbean's cruise ship Liberty of the Seas has received a MARPOL "Statement of Compliance" certificate from DNV.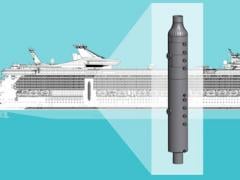 This scrubber has shown that the measurements of exhaust gas emission and wash water criteria have been shown to be well below the required limits stated in the MEPC guideline 184(59). This will ensure Liberty of the Seas is compliant with the 0.1 percent sulfur limit that will be required in ECAs from 2015.
Beyond the efficient removal of SOx and other particles, the GTM R15 offers a number of advantages over other scrubbers, such as its minimal footprint requirement and low weight. It is also energy efficient, requiring virtually no external chemicals and allowing for installation during operation.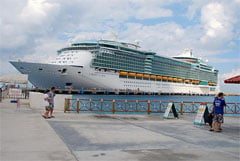 The GTM R15 that Green Tech Marine and Royal Caribbean are pilot testing was installed onboard Liberty of the Seas while the ship was in service. The compact design required no extra space as the scrubber replaced the ship's exhaust silencer.
Prior to the shipboard pilot, a preliminary scrubber test was performed shore side in Norway for 11 months. After several visits to analyze the scrubber's performance, Royal Caribbean committed to a pilot test.
Over the next 4-6 months Green Tech will continue to test the GTM R15 onboard Liberty of the Seas to demonstrate that the scrubber can be operated continuously over a sustained period of time and maintain the same positive results as the initial tests achieved.