Voyager of the Seas visits Jeju island in South Korea
In:
Voyager of the Seas travels in the Far East continues to attract celebrity-like coverage.  This time, Royal Caribbean's largest ship in the region docked in the port of Jeju on Saturday, which is one of Northeast Asia's leading tourist destinations.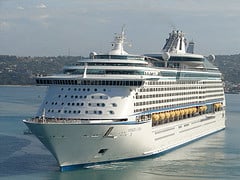 Voyager of the Seas pulled into port in the early morning to fanfare from local authorities that included traditional performances.
Jeju prepared special garlands and plaques for the passengers who arrived on the ship.
The provincial government hopes that the arrival of the cruise ship will be followed with other visits, which could help transform the island into a international resort. At present, the island off South Korea's southeastern coast is a favorite attraction for Chinese and Japanese tourists, although there has been a steady increase of people from other countries.
Jeju Governor Woo Keun-min, who was present to welcome the ship, said the arrival of the cruise ship opened a new chapter for the province. He said that once the naval based in the southern part of the island is completed in two years, 150,000 ton ships will be able to berth easily to disembark tourists.