Royal Caribbean will send Brilliance of the Seas to UK in 2013
In:
After Royal Caribbean refurbishes Brilliance of the Seas in the spring of 2013, it plans on sending her to the United Kingdom later that year.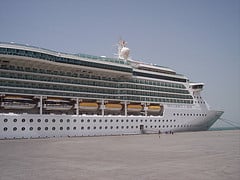 Brilliance of the Seas will offer eight 12-night cruises to Northern Europe and the Baltic Sea out of Harwich, England starting May 15, 2013. These voyages will include stops at Copenhagen; Stockholm; Helsinki; Talinn, Estonia; Gothenburg, Sweden; and an overnight in St. Petersburg, Russia.
Brilliance of the Seas also will operate a single 11-night Norwegian Fjords and Iceland itinerary departing July 27, 2013 that will call at Bergen and Geiranger, Norway; Lerwick/Shetland, Scotland; Klaksvik, Faroe Islands; and Reykjavik, Iceland (for an overnight stop). The ship will be based in Harwich through Aug. 31, 2013, when it will depart for Boston on a 15-night itinerary that will include calls at Le Havre, France; Portland, Dorset, U.K.; Cork (Cobh) and Dublin, Ireland; Klaksvik; and Reykjavik.
Brilliance of the Seas is scheduled to spend the summer 2012 sailing to Northern Europe out of Copenhagen and Amsterdam.