Royal Caribbean believes impact of Costa Concordia is normalizing
In:
Royal Caribbean's Director General of Italy, John Rotondo, spoke at a press conference in Genoa, Italy and commented that the impact on bookings from the recent Costa Concordia disaster seems to be lessening these days.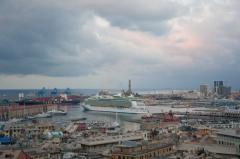 ''The incident in Costa Concordia has had a major impact on the cruise market. But now the situation is normalizing. As of today, the levels of absolute satisfaction are booked.''
Rotondo commented further on how Royal Caribbean was helping convince the public to cruise again with lower prices, "To convince the customer, it required a lot of pressure on prices. The economic crisis, the large amount of supply capacity and the occurrence of Costa Concordia are the three elements that have emphasized the pressure on prices.'' 
Rotondo said in comparisson to 2011, Royal Caribbean has doubled the number of Italians onboard its ships.  Royal Caribbean's ships operating in Italy are Voyager class, with Italian passengers representing 35% of the 3,600 passengers each ship can hold.  The other two thirds are American, Canadian, British, Germans and citizens of Northern Europe.