Royal Caribbean cruise ship rescues Cuban refugees
In:
Royal Caribbean's Oasis of the Seas rescued 23 Cuban refugees during a cruise last week near Jamaica.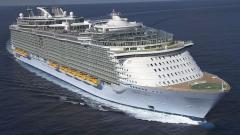 The Cubans were originally from the Manzanillo and Bayamo areas and were trying to reach Honduras but had been traveling in their makeshift boat for three weeks.  The group was spotted with binoculars the approximately 14ft boat bobbing four miles away.
Crew aboard Oasis of the Seas donated clothing to the people before they were turned over to Mexican immigration officials.
19 men and four women were brought on board the Oasis and kept in the conference room on the third deck until the ship docked in Cozumel, Mexico on Thursday.