Royal Caribbean Middle East bookings strong in first quarter
In:
Royal Caribbean's first quarter bookings in the Middle East have surged up despite some concern around the world with the state of cruise ship safety.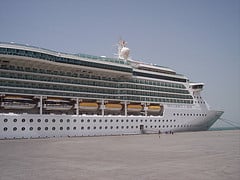 Royal Caribbean believes the uptick in bookings can be attributed to a recent marketing initiative that worked to increase awareness among potential travellers in the region.
Royal Caribbean Executive Director for the Middle East Lakshmi Durai commented on the good news, "We are 30 per cent up, first quarter to first quarter [last year]. We still have a huge population that is [yet] to experience cruising, so potential is high. Awareness is being created."
The cruise industry is also playing an increasingly important role in the UAE's tourism growth strategies. Growth over the past decade has been phenomenal in the sector. In 2001, Dubai received just 6,900 passengers on a handful of cruises that stopped in the emirate. Now, the UAE is considered to be the regional hub for the industry and last year Dubai received about 135 cruise ships with 375,000 tourists, according to figures from the Dubai Department of Tourism and Commerce Marketing.
By 2015, Dubai hopes to attract 180 cruise calls, carrying 625,000 passengers. In October, the emirate announced plans to build a cruise terminal to accommodate the expected growth in the number of passengers.