New Zealand cruise passenger totals expected to rise in 2013
In:
Demand for cruise ships is expected to rise in New Zealand by more than 20 percent in 2013 and Royal Caribbean's commercial manager for Australia and New Zealand cites Royal Caribbean's efforts to convince the public that cruising is still safe.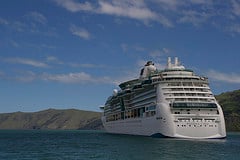 The effects of the Costa Concordia disaster have effected even New Zealand but Armstrong does not believe it will be a long-term concern, "Australians and Kiwis seem to have been able to process it as a one-off, probably human error, incident."
Royal Caribbean's business in New Zealand is growing quickly, with about 55,000 guests forecast for next season, compared to about 30,000 this year.
To meet the demand, Royal Caribbean will have five ships across two brands in the area.