Royal Caribbean shows off new safety simulator
In:
Royal Caribbean showed off its brand new training simulator at its$6.5 million facility in Fort Lauderdale, where crew can train to handle a ship in all sorts of weather conditions.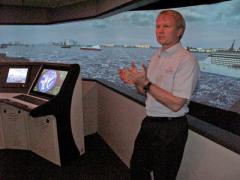 Royal Caribbean teamed up with Resolve Maritime Academy long before the Costa Concordia incident brought renewed attention to the area of cruise ship safety.
Royal Caribbean Captain William Wright, who is the senior vice president of maritime operations for Royal Caribbean, summed up the new facility's role as, "This was not a knee-jerk reaction to recent events."
Resolve agreed to build the new simulators to Royal Caribbean's specifications; the first training courses will take place on April 30. Royal Caribbean has used the company for more than a decade for firefighting, search and rescue and other emergency training.