Ukranian government ready to transfer ports to Royal Caribbean
In:
The Ukrainian government intends to transfer access to the ports of Sevastopol and Yalta to Royal Caribbean in an agreement that was reached. This was announced today at a press conference bythe first deputy chairman of the city administration Sergey Savenko.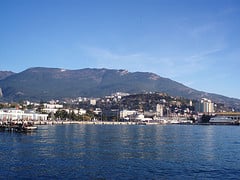 According to Savenko, "This company is willing to invest 250 million dollars in the infrastructure to handle the large cruise liners, in the construction of hotels, restaurants, in the reconstruction of quay walls, such as passenger ships require long piers not less than 300 meters."
Sergey Savenkov also noted that "we consider the more expensive option of building a new wharf at Cape Crystal." In the meantime, he says, "the main task for us - removal of the base repair of ships from the South Bay away from the center, most likely in the area of ​​Inkerman, and a marina prepare for the reception worthy of yachts and ships."
As the head of the Sevastopol Sea Trade Port Sergei Tarakanov, "now active negotiations with the investor and the only obstacle to the imperfection of the Ukrainian legislation." "The government is preparing a decree according to which the Yalta and Sevastopol port may be conceded," - said Tarakanov. According to him, "in the next six months, the issue is resolved. I'm sure - this is one of the good lines, just because no one will give money. Investor needs to know what to pay."
Administration of the seaport of Sevastopol is also considering converting to receive large cruise ships dock, however that is currently on loan at the Russian Black Sea Fleet.