Royal Caribbean's use of iPads highlighted in Information Week
In:
Royal Caribbean introduced iPads in every stateroom aboard Splendour of the Seas last year and it's got the IT world talking.  Royal Caribbean was mentioned in Information Week magazine as utilizing tablet computing for business.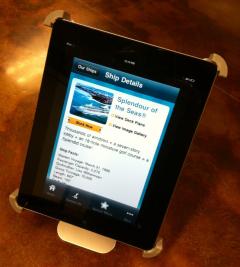 One use for tablets is for companies to put them in the hands of their customers, which is what Royal Caribbean is doing on its most recently remodeled cruise ship. Here we're not talking about creating a tablet app for customers, but actually giving them a device to use. A related customer use is encouraging tablet use while they're at your venue, whether it's a resort, baseball game, restaurant, or retail store.
Royal Caribbean this month will put iPads in every stateroom of its revitalized Splendour of the Seas cruise ship. Guests can check daily activities on the ship, book shore excursions, and receive personalized promotions from Royal Caribbean, based on analytics the company runs in real time during a cruise. Royal Caribbean has used interactive TVs to provide that kind of information, but iPads are a more intuitive and enjoyable way for guests to receive it, says CIO Bill Martin.