Royal Caribbean protests new tourism tax in Spain
In:
Royal Caribbean is joining other cruise lines in protesting a new tourist tax that is about to go into effect in Spain.  The new tax would charge cruise operators the same rate of 2.5 Euros that is currently charged to tourists staying in 5 star hotels for every passenger.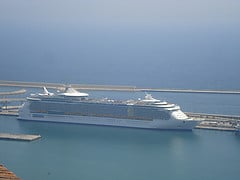 The cruise lines argue it isn't fair since all passengers on the ship will be subject to the same rate as those staying at a 5 star hotel, when clearly not all passengers are in the same type of accommodations.
Francisco Reddel, port manager Mediterranean and Middle East Operations of Royal Caribbean was at the Balearic Cruise Forum 2012 in Palma de Mallorca to join in the chorus of complaints about the new tax law.