31,000 passengers set cruise record in Barcelona, Spain
In:
The port of Barcelona, Spain yesterday again left a record for its history: more than 31,000 cruise passengers embarked or disembarked in any of its terminals, a new record for the largest cruise port in Europe. Eight tall ships docked in Barcelona yesterday including Royal Caribbean's Liberty of the Seas, which can carry more than 4,500 passengers.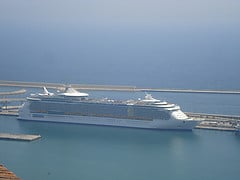 Astronomical figures for a booming tourism sector in Barcelona and monthly figures are unstoppable. 31,000 passengers yesterday must be added the 1.3 million who have already passed through the port until the month of July, a figure that represents 16% of cruise passengers during the same period last year. Also the number of ships has been larger: 451 cruise accumulated during the first seven months of the year, representing more than 21 scales in 2010. A figure that will join the nearly 120 scales this August. One month, the most powerful of the year, they recorded another record: the contingent of ships docked in the same day. This new historical value will occur on Friday, August 26, when the port awaiting the arrival of nine ships, albeit smaller-capacity, move some 26,000 cruise passengers.
Royal Caribbean sources certify the pace of sales is having the latest ship: "While there are still some places, it is expected to go at full occupancy this summer," said Marc Pedrol, director of marketing and communication Royal Caribbean. According Pedrol, the ship is currently above the forecasts made for this year and estimate that volume will grow by 40% compared to 2010. "We see a clear upward trend in the Spanish market to the cruise product, and found that Northern Europe and the Greek islands begin to awaken the interest of all those cruisers who have done a cruise with us from Spanish ports."