Royal Caribbean CEO gives more details about Project Sunshine
In:
Royal Caribbean Adam Goldstein outlined some new details about the new class of Royal Caribbean ships that is on order in a recent blog entry.  While Goldstein can't divulge details about the ship quite yet, he did clue us into the process they are engaged in that will bring Royal Caribbean its next new ships in about 3 years.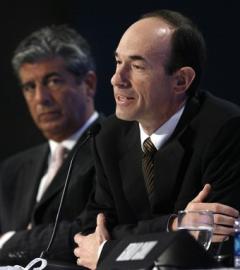 Royal Caribbean has a department that specializes in these new ship designs called "Fleet Design & Newbuild", although Goldstein notes that is more commonly referred to as simply "Newbuild".  Newbuild is also involved in ship upgrades, such as the one that is going on right now for Radiance of the Seas.
The new Project Sunshine class ship design is being headed up by Executive VP Harri Kulovaara and chief designer Kelly Gonzalez.
The design process involves the Operations, Marketing and Executive Steering committee divisions of Royal Caribbean.  The Executive Steering committee is made up of Adam Goldstein, Royal Caribbean Chairman Richard Fain and Harri Kulovaara.  They meet once a month for a day to go over "critical aspects of the project".  The executive steering  committee normally meet in Miami, but for the May meeting, they flew out to Germany to the Meyerwerft shipyard for a meeting there.
Goldstein reiterated that Project Sunshine should be ready sometime in 2014.