Teen accuses Royal Caribbean singer of rape
In:
A 17-year-old girl from Pennsylvannia is accusing a Royal Caribbean singer aboard Navigator of the Seas of getting her drunk and then raping her.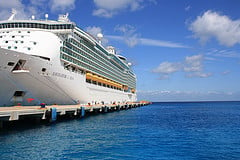 The girl's family filed a civil lawsuit against Royal Caribbean in federal court in Miami.  The family also reported the incident to the FBI, but no criminal charges appear to have been filed.
The girl alleges that on March 5, while onboard the Navigator of the Seas, she was listening to a band when the singer invited her to dance.  The singer later ordered several alcoholic drinks at the bar.  In the lawsuit, neither the singer nor the bartender asked to verify the girl's age.  She then says she was taken to the singers room as she was "extremely intoxicated and impaired" and when the man started engaging in sexual activity, the girl regained enough consciousness to want to leave. Once she managed to leave, she was found in the hallway crying by another Royal Caribbean employee who brought her to the medical center for examination.
Cynthia Martinez, a Royal Caribbean spokeswoman, said the incident was immediately reported to the FBI and that a team from the company offered the passenger medical care and counseling, "To date, the company is unaware of any charges being filed against anyone in this matter.  Royal Caribbean maintains strict policies governing employee interaction with guests. Due to the violation of this policy, the musician in question is no longer employed by Royal Caribbean."