Transportation fiasco strikes Bermuda and impacts Royal Caribbean guests
In:
Guests aboard Royal Caribbean's Enchantment of the Seas ran into a major transportation problem on the island of Bermuda during a recent stop.  Guests arrived off the ship to King's Wharf, Dockyard, when they ran into a very crowded situation thanks in part to Bermuda's timetable cuts.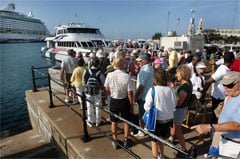 Tourists complained many times to officials in an effort to figure out how to get to their destinations after encountering rude staff and a lack of organization.
The problem seemed to be a lack of enough transportation options after the Ministry of Transport introduced plans for a dispatcher to "control tourist numbers" in a bid to save seats for locals. Locals have long complained that tourists were given priority as full buses were driving past them on the way to Hamilton.
In an effort to remedy the situation, Bermuda's Tourism Minister Patrice Minors and Transport Minister Terry Lister met earlier this week to discuss how to address growing concerns about timetable cuts.  No word yet on what, if any, solution has been reached.
Shadow Transport Minister Kim Swan said he hoped the meeting would pave the way for an improved public transport system which "meets the needs of the whole Island."